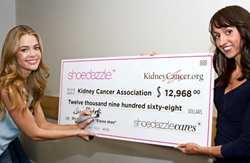 Hollywood star Denise Richards, whose mother died from kidney cancer in 2007, is a director
Hollywood, Calif. (PRWEB) July 31, 2015
"This annual meeting is one of our best-attended events," says Carrie Konosky, KCA VP for Public Affairs. "Family members from throughout the region look forward to this educational opportunity," she adds. "It's a rare chance for one-on-one interaction between patients and some of the top medical practitioners."
The meeting begins at 8:00 a.m. Pacific at the Stanford Cancer Center, in Palo Alto. Breakfast and lunch will be served, and there is no cost to attend. Reservation information and the agenda are available online.
Topics to be addressed during the meeting include an overview of medical therapy for kidney cancer, clinical trials, genomic testing, and imaging, in addition to ample opportunity for questions and answers. It is also a place to meet long term survivors of advanced kidney cancer.
Hollywood star Denise Richards, whose mother died from kidney cancer in 2007, is a director of KCA and, along with other directors of the charity, she has been invited to attend this educational meeting.