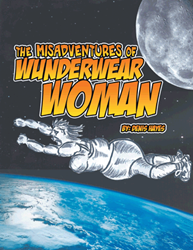 She wants to change the world, not just save it, and dares to say things others hardly dare to think.
Kuala Lumpur, Malaysia (PRWEB) May 20, 2014
Author Denis Hayes uncovers "The Misadventures of Wunderwear Woman" (published by Partridge Singapore). In this book, he brings readers into a romp through the life of an upper middle class English girl who is the opposite of Supergirl and Marvel Woman in every way and who just cannot help challenging accepted fashionable thoughts and actions in a forthright way.
Wunderwear Woman is different. She is not anorexic, muscled and hard bodied. She does not collapse at the sight of Kryptonite, or turn into a fly or spider, nor does she fly in the air or run up walls. Some might say she just blunders in, whereas in reality she only wants to speak her mind and say it as she sees it. She is big, bold and upfront. She wants to change the world, not just save it, and dares to say things others hardly dare to think. She mixes in a world of wine bars, fashion shows and one-upmanship while trying to come to terms with the poor, disadvantaged and deprived.
"The Misadventures of Wunderwear Woman" is an adult book that includes humor and satire, with strong language in places. Hayes claims that he writes it to outrage and provoke. "I became increasingly frustrated with world leaders and governments pulling in one direction, business becoming more and more greedy and selfish pulling in another and the grass roots of humanity becoming so disenchanted that they protest through the streets rather than the ballot box. I felt the need to say something about it in an impolite way," he shares. "I wanted to forge a character that would provoke outrageously on most of the major issues in a forceful, blunt and yet humorous way."
This book deals with the past, current and future issues reflecting timeless human attitudes, behaviour and poses.
"The Misadventures of Wunderwear Woman"
By Denis Hayes
Softcover | 8.5x11in | 116 pages | ISBN 9781482894431
e-book | 116 pages | ISBN 9781482892840
Available at Amazon and Barnes & Noble
About the Author
Denis Hayes is an English born author who has worked on many projects in many countries of the world, living an adventurous and sometimes dangerous life. He has entertained and has been entertained by Royalty, Premiers, Ministers and VIP'S. He has mostly been entertained, charmed and at times irritated by almost everyone. After writing books for children and teenagers he decided to introduce adults to the same old world but viewed from a different perspective. He has been married four times and has eight children yet vigorously defends the sanctity of marriage and deplores the increase in the world's population. He currently lives with his lovely Asian wife and three boys in Malaysia. He personally draws and colours all the characters by hand.
Hayes is the author of the following books: Silly Animal Stories for Kids, Silly Fishy Stories for Kids, Silly Ghost Stories for Kids, Out of this World Stories, Silly Alien Stories for Bigger Kids, Silly Alien Space War Stories for Bigger Kids, Silly Alien Time Travel Stories for Really Big Kids, Bye Bye Baby Boy Big Boy Blues, Hard Travellin` Man Blues and The Misadventures of Wunderwear Woman in America. For more information, one may check his website, http://www.sillystorycentre.com and http://www.theoffensivebookcentre.com.
Partridge Singapore is a partnership between the Penguin Group, the world's foremost trade book publisher, and Author Solutions LLC, the industry leader in supported self-publishing, that aims to help writers in Singapore, Malaysia, and the rest of Southeast Asia become published authors. Partridge Singapore gives authors in the region direct access to a comprehensive range of expert publishing services that meet industry standards but are more accessible to the market. For more information or to publish a book, visit http://www.partridgepublishing.com/singapore or call 800 101 2657 (Singapore) or 1 800 81 7340 (Malaysia). For the latest, follow @PartridgeSG on Twitter.