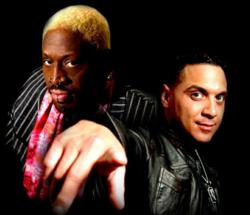 "In just a month, we already have over twenty music projects on the table" says Vic Latino.
Port Saint Lucie, FL (PRWEB) February 12, 2013
They have toured the World. From Ibiza to Indonesia, The World Renown DJ Team of Vic Latino and Dennis Rodman are all set to start their DJ Tour once again after the March 3, 2013 debut of NBC's hit series All-Star Celebrity Apprentice. Celebrity Apprentice which is one of NBC's highest rated TV shows will star past cast members which include Dennis Rodman, Bret Michaels, Gary Busey and Trace Adkins to name a few.
Dennis Rodman who is an NBA Hall of Famer, Actor, Philanthropist and Writer just released a children's book titled "Dennis The Wild Bull" which focuses on kids being true to themselves. "More than anything, I just want little kids today just to understand: Ain't no matter what you do in life -- be different, rich or poor, man -- guess what? It's OK to be who you are pretty much and you'll be accepted," Rodman said.
DJ Vic Latino is the co-owner of radio conglomerate JVC Broadcasting. Vic Latino never sleeps. He runs the day to day operations of his radio stations, is an on air jock, an Ultra Records Artist as well as producer and remixer as part of the production team; Tune~Adiks. In 2012, Vic Latino and Tune~Adiks remixed American Idol's Leah Laurenti, Audio Playground featuring Snoop Dogg and Prince Malik featuring Flo Rida. "In just a month, we already have over twenty music projects on the table" says Vic Latino. In 2013, Vic Latino will release "Conga" a remake of Gloria Estefan's Miami Sound Machine worldwide hit featuring SuperMartXe vocalist Nalaya and grammy nominated Dose (Fulanito)
The DJ Team of Vic Latino and Dennis Rodman (represented by Nene Musik Productions, Llc. and Prince Marketing Group) is looking at offers from EDM Events and Festivals. They will also be a part of one of Europe's biggest EDM events, "Pukka Up Event" which will include DJ Fenton Gee (UK/Space/Amnesia-Ibiza) as well as guest international recording artists.
About Prince Marketing Group:
The Prince Marketing Group was established in 1994, and has quickly become one of the fastest growing and most efficient sports and entertainment-marketing firms in the industry. PMG has developed the trust of some of the most respected athletes and celebrities in the world. Their star studded celebrity roster is led by, Earvin "Magic" Johnson, The Estate of Smokin' Joe Frazier, Hulk Hogan, Dennis Rodman, Micky Ward, Roy Jones Jr. and Carmen Electra.
About Nene Musik Productions, Llc.
Nene Musik Productions, Llc. was established in 1989. Today, It is a boutique Artist Management and Consulting Agency that services Recording Artists, International DJ's and celebrities that have been misrepresented by others in their past. Dennis Rodman, Vic Latino, Cascada, and EDM Pukka Up Event are just of few on Nene Musik's Client Roster. Nene Musik's experience and commitment to excellence have earned them the reputation as one of the best Artist Management / Consulting companies in the World.