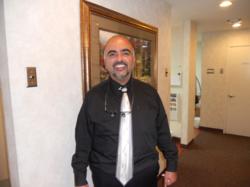 The most frustrating part is no matter how much I do, it's not enough
Antioch, CA (Vocus/PRWEB) June 02, 2011
Many of California's children today are suffering from dental problems because their family is uninsured and they are undereducated about proper dental care. Dr. Ali Shirani, a general dentist practicing in Antioch, California, is doing his part to help by volunteering his time to treat local children who don't have insurance. Most of the children have never visited a dentist, so Dr. Shirani uses humor and rewards to calm them down. He hopes his generosity will inspire other dentists to volunteer their services to kids in need.
Dr. Shirani has been volunteering his services since he was in dental school at USC, including trips to treat needy patients in Tijuana. He made this service part of his Antioch practice because he wanted to help local children whose families lack the means to bring them to a dentist. He recently told the Contra Costa Times that for a lot of the families, the choice is, "Do I feed my kids or take them to the dentist?" Now these kids have access to his state-of-the-art facilities, and receive the highest level of care.
The kids who visit his practice are in need of serious dental care; root canals, extractions, fillings, or multiple procedures. He is friendly and gentle as he talks the kids through the process, and he rewards kids who keep their mouth open with toys and stickers. He also teaches them about the importance of brushing and flossing. Dr. Shirani usually treats eight to ten needy children each month. The children are referred to Dr. Shirani by Contra Costa Health Services.
The Contra Costa Times noted the dire state of pediatric oral hygiene in California, stating that "one out of four children in the state's elementary schools have untreated tooth decay, according to a recent study. Four percent of elementary school students are afflicted with pain from rotting teeth, abscesses and infections."
Dr. Shirani is fighting to change those numbers, but he knows how big the problem is. "The most frustrating part is no matter how much I do, it's not enough," he stated. He hopes other dentists will view his practice as a model and start offering a similar service.
For more information about dental care for low-income residents, please call Contra Costa Health Services at (925) 313-6280.
For more information about dental care for uninsured children or any of Dr. Ali Shirani's services, call him at (925) 203-1457 or visit him on the web at http://www.drshirani.com.
About Dr. Ali Shirani
Dr. Ali Shirani is a restorative and cosmetic dentist in Antioch who helps each of his patients improve their health, appearance, and self-esteem by creating the smile of their dreams, and also maintaining the health and function of their teeth, gums, and bite. His state-of-the-art Antioch dental care facility is equipped with the most advanced technology available. He offers digital X-Rays, intra-oral cameras, diagnostic lasers, and Zoom!™, the latest teeth whitening technique.
###