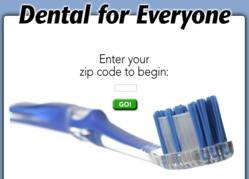 Having a routine dental check-up is important to one's overall health. Dentists can detect the signs and symptoms of serious medical conditions such as cancer, diabetes, and heart disease in their early stages
Jackson, Miss (PRWEB) October 25, 2011
Leading dental insurance provider DentalForEveryone.com is experiencing an increase in demand for affordable dental coverage from retired baby boomers who have lost coverage through their employers. Seeing the dramatic rise in demand, DentalForEveryone.com is poised to offer recent retirees a large selection of best-in-class dental care options, making it possible for baby boomers to continue receiving proper dental care and improve their overall health.
"Because of their recent retirement, a growing number of baby boomers are calling our company looking for dental plans to replace the coverage they lost through their employers," said David White, president and CEO of Morgan-White Group, Inc., parent company Morgan White, Ltd. "We are proud to offer members of this age group low cost dental plan options from leading providers in the industry."
DentalForEveryone.com's impressive suite of products includes affordable dental insurance plans for groups and individuals from the top carriers in the industry, including Delta Dental, Standard Life, Madison Dental and Careington. Baby boomers can choose from a large selection of discount plans as well as extended indemnity options. Through a direct-to-customer website, baby boomers can receive a free online insurance quote in just a few seconds by simply entering their zip code and clicking Go. What's more, DentalForEveryone.com makes it easy for members of this age group to compare rates, plan highlights, deductibles and co-pays, including dental PPO plan options.
"Having a routine dental check-up is important to one's overall health. Dentists can detect the signs and symptoms of serious medical conditions such as cancer, diabetes, and heart disease in their early stages allowing them to be treated before it's too late," said White. "However, because of their fixed incomes, baby boomers may not seek regular dental treatment in order to save where they can. Thankfully, DentalForEveryone.com solves this problem by offering members of this age group a wide variety of options to meet their individual needs and budget."
In addition to offering baby boomers a large selection of affordable dental plan options, DentalForEveryone.com is poised with a talented customer service department equipped to handle questions about dental care plans for members of this age group. The company encourages all baby boomers to see a dentist regularly to improve oral and overall health.
About Morgan-White, Ltd.
Jackson, Miss-based Morgan-White, Ltd. is a wholly-owned subsidiary of MorganWhiteGroup (http://www.MorganWhite.com) and a leading internet marketer of dental, vision, cancer, Medicare and supplemental products. MWL also provides its unique web-based enrollment system to brokers and carriers who need online enrollment capabilities for their products and websites. The MWL system does all the work, allowing the broker or carrier to receive their normal commission while completing enrollment through their websites. MWL also has three direct-to-consumer brands: Dental For Everyone, Dental and Vision 4 U, and MWG Insurance Mall.
# # #