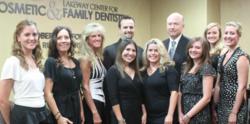 Lakeway, TX (PRWEB) October 30, 2012
In addition to offering IV sedation dentistry and a relaxing office atmosphere, Austin Dental Implants now has a certified massage therapist on staff to put patients at ease before dental implant procedures.
While it's estimated that 75 percent of adults in the United States suffer from a form of dentist phobia, Dr. Rudy Izzard, the provider of dental implants in Austin, finds innovative ways to help make his patients more comfortable while they're in his office.
The practice's certified massage therapist, Kellie, also works as a dental assistant for Dr. Izzard. In addition to helping create beautiful smiles for Dr. Izzard's patients, Kellie offers hand and neck massages before the implant procedure.
"Patients are definitely more relaxed and feel a lot more comfortable after receiving a massage," Kellie said. "Many patients come into the office tense and worried about their procedure, but they feel much more at ease after a hand and neck massage. It's important to us that our patients have the most positive experience possible."
Dr. Izzard said the dental practice plans to implement more tension-relieving changes as Austin Dental Implants continues to grow.
About Austin Dental Implants at the Lakeway Center For Cosmetic and Family Dentistry
The Lakeway Center for Cosmetic and Family Dentistry is an Austin cosmetic dentistry practice in Lakeway, Texas consisting of Dr. Robert D'Alfonso and Dr. Rudy Izzard, whose practice is named Austin Dental Implants. Dr. D'Alfonso practices cosmetic, restorative and general dentistry, while Dr. Izzard focuses mainly on implants and oral surgery. The practice features an in-house lab and IV sedation capabilities. The dentists at the Lakeway Center pride themselves on providing high-quality general, cosmetic and implant dentistry that gives patients the confident, healthy smile they deserve.
###