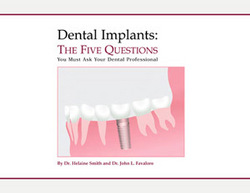 Dental Implants: Five Questions You Must Ask Your Dental Professional
West Roxbury, MA (PRWEB) April 26, 2010
Helaine Smith, DMD, with Dr. John L. Favaloro, a board certified periodontist, has launched her newest e-book, Dental Implants: The Five Questions You Must Ask Your Dental Professional, which can be downloaded from Dr. Smith's blog, Successful Smiles.
A free e-book, "Dental Implants: The Five Questions You Must Ask Your Dental Professional," explains the technical details about dental implants and how the procedure is performed. In addition, the book covers the five questions people must ask before agreeing to have a dental professional perform dental implant surgery.
Dr. Smith, a passionate believer in educating the public about oral health care, and Dr. Favaloro, her in-house periodontist, developed the e-book to help consumers safeguard their health. "You read stories all the time about people who have died or have had serious medical complications from 'safe' medical procedures such as liposuction, laser eye surgery, and cosmetic surgery," says Dr. Smith. "Having a dental implant placed in your mouth requires surgery, so Dr. Favaloro and I wanted people to know more about the procedure, what to expect, and how they can choose the best dentist or periodontist. This e-book gives them the information they need about dental implants and the questions they would never think to ask dental providers."
"Dental Implants: Five Questions You Must Ask Your Dental Professional," is a free download, meaning people do not need to register for it. In addition to her e-book, Dr. Smith has developed YouTube videos, blog posts, a newsletter, and other e-books that educate people about oral health and good dental care - all of which can be found at her Website, http://www.helainesmithdmd.com
About Dr. Helaine Smith
A passionate advocate for educating consumers about dentistry, Helaine Smith, DMD owns two thriving dental offices - a cosmetic dental spa and a family dental practice - both in the Boston area. Dr. Smith is the author of the popular "Healthy Mouth, Healthy Sex!" e-book, featured in the book, World Wide Rave (Wiley, 2009), by David Meerman Scott. Dr. Smith is regularly quoted in the media and speaks frequently about cosmetic dentistry. She can be reached via her Website at http://www.helainesmithdmd.com or by email at helainesmithdmd(at)aol(dot)com.
About Dr. John L. Favaloro
A Board Certified Diplomate of the American Academy of Periodontology and a Fellow of the Academy of General Dentistry, Dr. Favaloro combines expertise in periodontics, dental implants and oral medicine. Dr. Favaloro holds certifications in implantology from Noble Biocare, 3i Implant Innovations, CoreVent (Dentsply,) INI, and Interpore IMZ and is licensed to practice in Massachusetts, Florida, and California. After obtaining his DDS from Georgetown University, Dr. Favaloro continued his training in the U.S. Navy and at Boston University's School of Dentistry where he specialized in periodontics and dental implants.
###