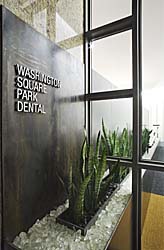 The dental X-ray handheld design improves dental radiography speed, convenience, safety and quality
San Francisco, CA (PRWEB) April 25, 2012
San Francisco's best dentist for family dentistry and dental implants, Washington Square Dental, is thrilled to announce that it uses the NOMAD Pro Handheld X-ray. The device is the most advanced intraoral dental X-ray system on the market for dental professionals.
"The dental X-ray handheld design improves dental radiography speed, convenience, safety and quality," Dr. Sara Creighton said.
Compared to conventional wall-mounted X-ray systems, the NOMAD Pro Handheld X-ray device offers a higher level of personal care. Family or a spouse can stay with patient during procedures, with no need to leave the room. Radiograph can also be taken anytime during the procedure, and the handheld device is perfect for use with sedated adult, children, geriatric or special need patients.
The second advantage of Nomad X-ray device is its economy and efficiency. It requires no installation and associated expenses, such as special cabinetry, reinforced walls and additional electrical work. One NOMAD handheld unit can easily serve three to four operatories. The device also reduces retakes, resulting in higher efficiency and improved workflow.
Finally, nothing beats the safety and convenience of the device. It is lightweight, cordless and easily transportable. It requires no awkward arms to manipulate, and no need for special stands, cables and remotes. In addition, it produces hundreds of diagnostic quality images from a single battery charge. The device also provides sharp, clear images with a .4-millimeter focal spot and a minimal radiation dosage. Due to its efficient focal aperture, minimal radiation is needed to produce the digital X-ray, enabling lower radiation exposure to the patient. Studies also show that yearly operator exposure is equivalent to or less than exposure from a typical wall-mounted X-ray.
Founded by Dr. Sara Creighton and Dr. Jared Pool, Washington Square Park Dental is built on a foundation of expert dental care and quality customer service. Their facility consists of cutting-edge technology and ceiling-mounted televisions for patient education and relaxation. Dental visits will go by faster while patients rest upon comfortable chairs and watch favorite Hulu or ESPN 3 programs.
For more information about any of Washington Square Park Dental's services, call 415-329-5776, schedule an appointment online at http://www.wsparkdental.com or visit 1719 Powell St. in San Francisco.
About Washington Square Park Dental
Washington Square Park Dental is a family dentistry practice comprised of some of the best dentists in San Francisco. Conveniently located in a LEED-certified space in North Beach, it hosts a modern, relaxing environment to ensure clients are at ease and well cared for at all times. Washington Square Park Dental emphasizes patient education and preventative care, helping clients maintain a lifetime of excellent oral health. It specializes in all general dentistry services, including, dental implants, cleanings, fillings, teeth whitening, Invisalign diagnostics, treatment plans and more.