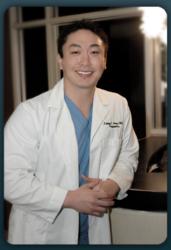 We want to offer the best possible periodontal care to our patients with the highest level of esthetics
Campbell, CA (PRWEB) February 24, 2012
Ueno Periodontics, a state-of-the-art periodontist office in the San Jose and Campbell areas, is now offering dental patients the newest technology in teeth cleaning: air polishing. Air polishing leads to whiter and cleaner teeth faster than traditional methods.
"We want to offer the best possible periodontal care to our patients with the highest level of esthetics," Dr. Jeremy Ueno said. "The air polisher enables us to smooth teeth, remove heavy plaque deposits and remove stains in a manner that traditional methods cannot compare."
Air polishing can whiten teeth up to three shades more and may be performed during routing cleanings, deep cleanings or periodontal surgeries. It is the safest way to polish teeth because it does not involve scraping against the tooth enamel, unlike polishing pastes and rotating cups. Air polishing is also able to access hard-to-reach areas thanks to its pressurized air, water and sodium bicarbonate powder combination. The method also offers a better level of oral care due to its better plaque-removal capabilities.
"Patients love the feeling of their smooth teeth and love looking in the mirror at their whiter and cleaner teeth after air polishing," Dr. Ueno said.
For more information about air polishing or any of Ueno Periodontics' products or services, call 408-329-1271, view the dental office on the web at http://www.uenoperiodontics.com or visit at 1930 S. Bascom Ave., Suite 120, in Campbell.
About Ueno Periodontics
Ueno Periodontics is a dental office in Campbell that offers high-tech and high-care services, such as dental implants, laser surgery and other periodontal procedures. Dr. Jeremy Ueno is a board-certified periodontist and a Bay Area native, born and raised in San Jose. He is an active member of the American Academy of Periodontology, the California Society of Periodontists, the American Dental Association, the Academy of Osseointegration, the Santa Clara County Dental Society and the California Dental Association.
###