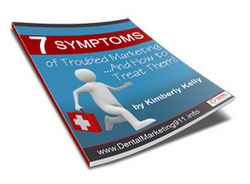 With the economy still steeped in economic turmoil, many Americans are putting off "non emergency" routine dental care. According to a recent survey conducted by The American Dental Association
Kennesaw, GA (PRWEB) September 3, 2010
Dental Marketing Consultant Kimberly Kelly has announced today that her company, Target Dental Marketing Consultants LLC, will be the first major dental practice marketing company to offer a free recession rescue marketing guide, exclusively for family and cosmetic dentists.
With the economy still steeped in economic turmoil, many Americans are putting off "non emergency" routine dental care. According to a recent survey conducted by The American Dental Association (2009), a growing number of family dentists across the nation have reported serious declines in practice revenues.
For many family dentists, these financial challenges are further exacerbated by the upsurge in competing practices vying for the same patients. To combat these declines, the family dentists surveyed have acknowledged making cutbacks in their dental marketing budgets. While others are seeking out viable solutions to increase revenues.
"More and more, family dental practices are finding it a necessity to "beef up" sales and marketing activities in order to survive," says Kimberly Kelly, Chief Marketing Strategist at Target Dental Marketing Consultants. "My hope is that this free guide will be a lifeline to family dentists struggling to get and keep more patients."
This free dental marketing guide ("The 7 Symptoms of Troubled Marketing & How to Treat Them") delivers a much needed boost to beleaguered family and cosmetic dentistry practices hard hit by the recession.
Availability:
This free report is available for a limited time beginning today, exclusively to family dentistry practices dealing with troubled marketing or in need of expert dental marketing help. Interested dentists should visit DentalMarketing911.info to claim their complimentary family practice marketing guide.
For More Information, Contact:
Kimberly Kelly
Target Dental Marketing Consultants, LLC
222 Hawkins Store Road
Kennesaw, GA 30144
(800) 895-6920
###