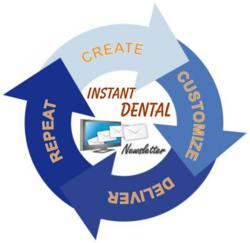 Look outside your own geographical area and broaden your scope. You could get lucky and find talented and personable employees willing to travel to work in your clinic.
Denville, NJ (PRWEB) February 07, 2012
"It's vital that practices employ the best personnel that also act as patient magnets," said Chhoda. "Hiring someone at a lesser pay rate may seem like a good fiscal decision, but it's a move that can backfire, costing patients and return business." This is the hallmark of Nitin's brand new service called Instant Dental Newsletter.
Chhoda notes that it's important for patients to like their dentist and have confidence in their abilities, but for dental marketing, it's crucial that staff be able to establish a rapport with patients. Practices that keep that in mind are more successful at attracting new patients and retaining existing clients. To help dentists succeed, even in the current economic environment, Chhoda offers the following suggestions for recruiting staff in a brand new, recently published article on his blog for dental marketing.
Internships
According to the Bureau of Labor Statistics, more dental workers entered the job market during 2010-2011 than at any time in history, but employment options didn't increase accordingly. That's good news for dentists, who can work with local learning institutions to offer internships. It provides valuable experience for those just starting out in the profession and provides dentists with the opportunity to observe interns in action. Employment can be offered to the best, brightest and most enthusiastic.
Look Outside the Area
Most dentists look locally for professionals, but Chhoda advises seeking further afield to provide a wider pool of candidates. For successful recruitment, the position must appear unique, attractive and better than other offers. To assist in that endeavor, he suggests utilizing a dental newsletter for professional communications.
"Look outside your own geographical area and broaden your scope," said Chhoda. "You could get lucky and find talented and personable employees willing to travel to work in your clinic."
Full-time vs. Part-time
Chhoda noted that an effective dentist marketing strategy to attract the desired assistants is to advertise for a part-time employee when looking for full-time professionals. Those that respond are likely to have full-time jobs already - they're simply seeking a few extra hours to supplement their income. That strategy is sound and reflects Bureau of Labor Statistics figures that show 35 percent of dental assistants worked part-time, often in more than one office.
Part of successful dental marketing strategies includes employing assistants and staff that can quickly establish a bond with patients and make the office a desirable place to visit. One of the first casualties of a bad economy is dental care. Personable, enthusiastic staff plays an integral part in retaining patients and attracting new clients for success in any economy.
Chhoda's office can be reached by phone at 201-535-4475. For more information, visit the website at http://www.nitin360.com.
ABOUT NITIN CHHODA
Nitin Chhoda is a licensed physical therapist, a doctor of physical therapy, and a certified strength and conditioning specialist. He's the author of "Total Activation: The New 5 Step Fitness Mantra" and "Marketing for Physical Therapy Clinics." He's been featured in numerous industry magazines, major radio and broadcast media, and is the founder of Referral Ignition training systems, Private Practice Summit, the Private Practice Formula and the Private Practice Mastermind group. Chhoda speaks extensively throughout the U.S., Canada and Asia. He's the creator of the Therapy Newsletter, along with Clinical Contact, a web-based service that boosts patient arrival rates.
###