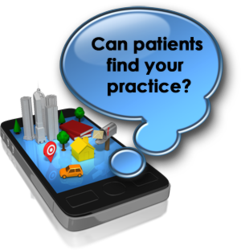 Now that mobile devices outnumber laptop and desktop computers, mobile websites for dental practices are a necessity.
(PRWEB) October 10, 2012
Mobile websites are now part of every New Patient Marketing Machine™ dental marketing plan package from Internet Dental Alliance, Inc. (IDA). And in keeping with IDA's mission to make patient acquisition easier for dentists, the mobile sites are automatically integrated into each IDA dental website. That means busy dentists aren't adding a complicated tactic to their marketing mix – they're expanding their lead generation reach with no additional work involved.
With IDA's New Patient Portals, as the turnkey websites are called, there are no extra steps involved in order to activate the practice's mobile versions. When a doctor sets up a new Portal, its mobile counterpart is automatically launched at the same time and ready to generate leads from potential patients using their smart phones or iPads to search for a dentist online.
Because so many people across North America now have access to mobile internet access via 3G and 4G networks, and since people keep their mobile devices within easy reach, consumers have already begun to rely on them to get fast information about local services. Dental practices that have a mobile website have an advantage over those that don't.
"Now that mobile devices outnumber laptop and desktop computers, mobile websites for dental practices are a necessity," says Du Molin. "We make it as easy as possible for dentists to be found online by local consumers using iPhones to search for dental services."
IDA's Starter package equips dentist with one customizable Portal and a basic mobile landing page that lets patient prospects connect with the dental practice online. The Professional and Premium packages feature multiple Portals that dentists can customize to generate leads for more than one clinical skill, and for multiple doctors and practice locations. The upgraded mobile dental marketing websites feature expanded information about the doctors and the dental practice, and also allow site visitors to set appointments online. All of the IDA packages feature automatic search engine optimization (SEO), lead tracking and a host of additional tools to generate targeted leads online.
About Internet Dental Alliance, Inc.
In 2012, IDA completed its advanced Lead Fire lead generation system, which automates content marketing, can be set up within minutes, is based on organic geo-targeted local search, and is customized for each dental office. Internet Dental Alliance is North America's largest provider of websites for dentists and dental directories. It provides dentists and dental practices with internet dental marketing services such as websites, dental marketing tools and other dental management advice and resources.