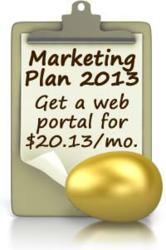 IDA can help you attract up to 20 additional new patients a month to your practice – and right now you can do it for only $20.13 a month!
(PRWEB) November 19, 2012
Dentists have just a few more days to take advantage of the special pricing available for the "2013 Economic Recovery" dental marketing website package from Internet Dental Alliance, Inc. (IDA). The limited-time offer provides new Internet Dental Alliance members access to its New Patient Marketing Machine™ program for an introductory price of just $20.13 per month.
IDA's New Patient Marketing Machine™ is designed to equip dentists with everything they need to quickly and easily set up and manage their own online dental marketing campaigns. Dentists have unlimited access to their own online Control Panel where they can update their Portals (dental websites), change the look of their sites, add new content and track their internet dental marketing campaigns for as long as they are subscribers.
The new cutting edge automated search engine optimization (SEO) technology that is included with each IDA Portal allows dentists to target specific high-value patient markets like cosmetic dentistry, dental implants, braces, etc. and attract more new local patients.
"January 2013 looks to be a blockbuster for dentistry," explains Jim Du Molin, Internet Dental Alliance, Inc. founder and dental practice management expert with 25 years of experience from which to draw. "Based on my faith in the coming economic recovery, I'm prepared to give you a total internet marketing plan with a complete dental website for just $20.13 a month -- for an entire four months."
Based on news that the United States government has already injected trillions of dollars into the economy, and the Federal Reserve is currently adding $40 billion dollars every month, Du Molin believes consumers are primed for record spending in 2013. That means dentists will be seeing patients who have been postponing their trips to the dental office for the past few years due to tight budgets – especially if their h dental marketing strategy includes websites that are positioned to attract those consumers who are now doing their research before spending their hard earned dollars.
"IDA can help you attract up to 20 additional new patients a month to your practice – and right now you can do it for only $20.13 a month!" adds Du Molin.
About Internet Dental Alliance, Inc.
IDA is North America's largest provider of websites for dentists and dental directories. In 2012, it completed its cutting-edge dentist marketing Lead Fire lead generation system. Based on organic geo-targeted local search strategy which is customized for each dental office, LeadFire technology automates search engine optimization, and makes it possible to generate new patient leads within minutes of setting up the system. Internet Dental Alliance provides dental practices with online dental marketing services such as dental practice websites, website design, find-a-dentist websites, and other dental management advice and resources.