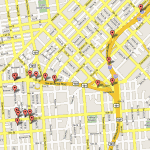 Geo-targeting is a necessity today for dental practices that want to see more new patients.
(PRWEB) December 02, 2012
Successful online dental marketing takes more than just having a website these days. With so much competition on the internet now, it takes a smart strategy for a dental website to attract new patients and convert them into appointments. With more than 25 years of experience in dental marketing and management, Internet Dental Alliance, Inc. (IDA) has designed its new dental websites to automatically optimize each page for the local keywords dentists choose for their online campaigns.
Local niche-targeted search engine optimization (SEO) is the new dental marketing frontier now. The reason is that most pre-shopping research for local services is now done online, and an increasing amount is being done using mobile devices with small screens like smart phones and iPads. That means the dental practice websites that get found when patient prospects search for a dentist are the ones that are optimized for the searcher's local keywords.
"Geo-targeting is a necessity today for dental practices that want to see more new patients," says Jim Du Molin, founder of Internet Dental Alliance, Inc. and dental marketing expert. "Many of our members have seen an increase of 5 or 10 new patients every month – even up to 15 or 20!"
In urban areas, the best local keywords are usually the name of the city, neighborhood or suburb. In rural areas, the keywords are usually the name of the town or county. To maximize being found, it helps to use the local keyword for the main dental office location along with a few nearby local markets.
IDA's New Patient Marketing Machine™ packages are designed to automatically take care of the local SEO. The packages provide dentists with one or more New Patient Portals, and dentists simply enter their dental practice address and contact information. Then they choose up to five more local areas to target. IDA's proprietary SEO technology optimizes each web page of every Portal with the practice's chosen local keywords. The process takes less than 10 minutes for dentists to have their new Portal live online to start attracting a steady flow of new local patients.
About Internet Dental Alliance, Inc.
IDA is North America's largest provider of dental directories and websites for dentists. It completed its unique Lead Fire lead generation system in 2012. LeadFire technology automates dental SEO and content marketing and allows doctors to begin generating new patient leads within minutes of set up. It automatically optimizes IDA Web Portals for each dental office using geo-targeted local search terms. Internet Dental Alliance provides online dental marketing dental marketing services such as dental website design and other dental management advice and resources.