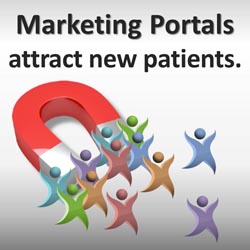 We designed IDA Portals to be easy to optimize and customize for each dental practice's needs.
(PRWEB) December 28, 2012
The new dental marketing websites from Internet Dental Alliance, Inc. (IDA) deliver a lot more functionality than providing consumers with contact information and directions to the practice (although they do that, too). IDA's dental websites (New Patient Portals) also educate patients about oral health and treatment options. These treatment-specific articles and videos not only reinforce the practice's professionalism, they also increase prospective patients' confidence to set new appointments.
The professionally produced videos and ready-made articles are included in IDA's New Patient Marketing Machine™ packages. Article topics are strategically selected from the top 25 dental patient markets that consumers research online. Dentists can use them as-is, edit them to personalize them for them dental practices or use the keyword phrases to spark ideas for writing their own articles.
The dentist marketing strategy behind IDA's content library is simple. IDA employs a proprietary search engine optimization (SEO) technology on its Portals that allow them to publish hundreds of keyword-rich web pages in just a few minutes. Using their online Control panel, dentists indicate the best local markets for their practice, along with their dental patient market choice for each Portal's focus. IDA's SEO technology takes care of the web page optimization in less than 10 minutes.
"We designed IDA Portals to be easy to optimize and customize for each dental practice's needs," explains Jim Du Molin, dental marketing expert and founder of Internet Dental Alliance, Inc. "After helping dentists build their practices for more than 25 years, I know that a steady source of new high-value patients solves just about every problem a dental practice has."
IDA's New Patient Marketing Machine™ packages come with either one, three or five Portals. They give dentists full control over their web content, and provide design choices from dozens of color schemes and layouts. IDA Portals provide dental practices with both online visibility that promotes their brand, as well as targeted lead generation that attracts new patients that match the practice's clinical skills.
About Internet Dental Alliance, Inc.
IDA is the largest North American provider of websites for dentists and dental directories. Known for its cutting-edge approach to dental marketing, it completed development of its advanced LeadFire technology in 2012. LeadFire's proprietary content generation technology makes it possible for doctors to generate new patient leads within minutes of set up, and uses organic geo-targeted local search, customized and optimized for each dental practice . Internet Dental Alliance provides dental website design, find-a-dentist websites dental practice management advice and a variety of other valuable dental marketing tools.