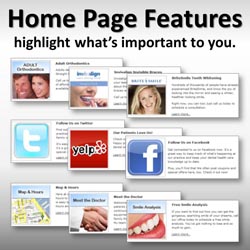 We make IDA Portals easy to customize so you can attract the kinds of patients that are the best fit with your dental practice.
(PRWEB) January 02, 2013
In markets with lots of competition, dentists need solid dental marketing strategy to make their dental practice stand out. One way to accomplish that is to publicize their personal approach to dentistry – their philosophy, their treatment style and their beliefs about the value of oral health. The new dental website packages from Internet Dental Alliance, Inc. (IDA) provide turnkey web pages – including a 'Doctor's Philosophy' page – which dentists can use to easily differentiate themselves from the competition.
IDA's customizable websites, or New Patient Portals, are designed for easy set up, easy customization and effective lead generation. Dentists can design their Portal using their choices from dozens of different web page templates that will showcase their practice – for example, the 'Office Tour' page can bring attention to state-of-the art equipment, patient-friendly office design, or other features than make patients feel comfortable; the 'Smile Gallery' page can display before and after pictures that help new patients envision their new teeth after treatment.
"We make IDA Portals easy to customize so you can attract the kinds of patients that are the best fit with your dental practice," says dental marketing guru Jim Du Molin, founder of Internet Dental Alliance, Inc. "We simplify and automate as much as possible so that once your Portal is set up, you have a steady source of new patients every month."
Beneath the easy set up, IDA Portals are automated with a powerful proprietary search engine optimization technology (SEO). It lets dentists publish hundreds of keyword-rich web pages in a matter of minutes.
Dentists choose up to five local markets to target – nearby cities, suburbs, neighborhoods, districts, counties, etc. They also choose one dental care market as a focus for their Portal. IDA provides pre-written content for more than 25 high demand consumer dental markets, such as cosmetic dentistry, braces, sleep apnea, dental implants, etc. Dentists can use these articles as-is for quick website set up, edit it for more personalization, or use the keyword in the titles as topic ideas to write their own articles.
For information about IDA New Patient Marketing Machine™ packages, visit http://www.InternetDentalAlliance.com.
About Internet Dental Alliance, Inc.
IDA is North America's largest provider of websites for dentists and dental directories. In 2012, it completed its cutting-edge dentist marketing Lead Fire lead generation system. Based on organic geo-targeted local search strategy which is customized for each dental office, LeadFire technology automates search engine optimization, and makes it possible to generate new patient leads within minutes of setting up the system. Internet Dental Alliance provides dental practices with online dental marketing services such as dental practice websites, website design, find-a-dentist websites, and other dental management advice and resources.