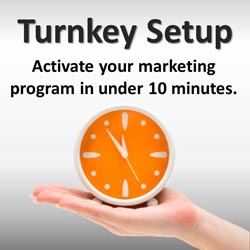 IDA's turnkey dental practice Portals can attract visitors around the clock 24/7.
(PRWEB) February 09, 2013
Effective website design can be a tricky subject when it comes to dental marketing. While visual appeal is certainly an important factor, some web designers forget that the ultimate goal of a dental website is to convert visitors into new patients. The good news is that with the new dentist websites from Internet Dental Alliance, Inc. (IDA), dentists don't have to choose between good visual design and good lead conversion – they get both.
IDA's New Patient Portals (dental websites) are the focus around which its New Patient Marketing Machine™ is built. The overall concept is build on a foundation of more than 25 years of dental marketing experience combined with cutting edge internet technology expertise. The result is a turnkey system that puts dentists in control of generating the kinds of new patient leads online that are the best fit with their clinical skills and dental practice goals.
"Doctors choose the dental profession so they can treat patients – not so they can become dental marketing experts," said former dental management consultant Jim Du Molin, founder of Internet Dental Alliance, Inc. "Yet the reality of the dental profession today is that most dentists need to market their practice in order to get that steady stream of new patients that will make it a success."
While many traditional forms of dental marketing still yield results – like patient referrals, good signage, and in some markets, even the Yellow Pages -- the internet has become the ideal venue for effective and cost-efficient marketing. Yet it's not simply a matter of setting up a dental website. The website must show up in the search results when people look for a new dentist online, and it must entice visitors to contact the dentist. This takes both technical know-how and dental marketing expertise – which is where IDA comes in.
"IDA's turnkey dental practice Portals can attract visitors around the clock 24/7," added Du Molin. "They let new patients set up appointments right on the site, and dentists can set them up and personalize them in less than 10 minutes."
About Internet Dental Alliance, Inc.
IDA is the largest North American provider of websites for dentists and dental directories. Known for its cutting-edge approach to dental marketing, its proprietary content generation technology makes it possible for doctors to generate new patient leads within minutes of set up, using organic geo-targeted local search, customized and optimized for each dental practice. Internet Dental Alliance provides dental website design, find-a-dentist websites and other dental practice marketing advice.