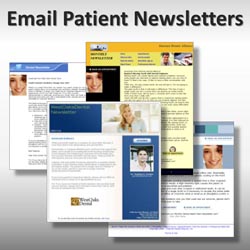 Our new LeadFire technology makes it easy to personalize newsletters with dental practice information, and deliver them automatically to their entire patient base.
(PRWEB) March 01, 2012
One of the newest dental marketing campaign tools offered by Internet Dental Alliance, Inc. (IDA) is the online patient email newsletter system. Based on IDA's unique LeadFire technology, it allows dentists to automatically communicate with their patients on a daily, weekly or monthly basis -- or on whatever regular schedule they choose. The system includes IDA's proprietary "Instant Email List-Builder" software, which allows dentists to create an email list in minutes from existing computer files, address books and databases.
The email newsletter system from IDA performs a valuable dental marketing function, which can have long term effects on the financial stability of the practice. Newsletters not only serve as reminders to existing patients to keep up with their dental hygiene habits, they also help dentists maintain current practice case loads.
In addition, internet dental newsletters keep the dentist's name in the public eye, which helps generate referrals from existing patients with strong top of mind awareness – an important factor in dental lead generation. According to results form a recent survey conducted by dental industry resource TheWealthyDentist.com, 68% of the dentists who responded said that referrals were their largest source of new patients.
"Doctors can use IDA's patient email newsletter system to announce new services, a new associate or a new team member or even their latest Continuing Education course," explains Jim Du Molin, founder of Internet Dental Alliance and a former dental marketing consultant. "Dentists can choose from more than 60 pre-written articles. Yet they're in full control of their patient communication. Our new LeadFire technology makes it easy to personalize the newsletters with their practice information, and deliver them automatically to their entire patient base."
Doctors can also write the content for their own newsletters if they choose and still take full advantage of the IDA system to manage their subscriber database and automate distribution. That way, they still reap the ongoing visibility and referral benefits of implementing a long term email newsletter strategy.
About Internet Dental Alliance, Inc.
IDA is the largest provider of dental directories, websites for dentists and email patient newsletters in North America. In 2012, it completed its unique Lead Fire lead generation system, which automates dental SEO and content marketing. LeadFire technology allows doctors to begin generating new patient leads within minutes of set up. It uses organic geo-targeted local search which is customized and optimized for each dental office. The Internet Dental Alliance provides dental marketing services such as dental website design, marketing newsletters, and other dental management advice and resources.
###