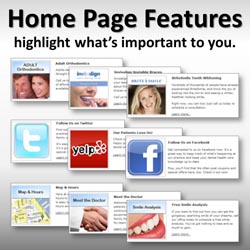 There are more than 100 pages of dynamic, search engine optimized content for each IDA New Patient Marketing Portal.
(PRWEB) March 29, 2012
IDA announces easy online dental marketing for both large and small practices. The easy-to-use online Control Panel is just one element of IDA's New Patient Marketing Machine™. It gives doctors full control of both the content and the appearance of their websites, as well as providing practice information to the specific directories as well.
The New Patient Control Panel stores geo-targeted and market-targeted information. For example, geo-targeted information refers to location: clients' addresses and Zip codes, phone numbers, hours of operation. Market-targeted information refers to: sedation dentistry, teeth whitening, and dentures. Etc. Other marketing materials, such as promotional photos and logos, can be stored in the online Control Panel and used as needed.
Each dental marketing Control Panel operates with IDA's new LeadFire technology. It allows doctors to generate customized content that distinguishes each dental practice at the push of a button for both Web Portals and Directories. This feature is important for busy dentists who have no spare time to learn programming or to wait for an opening on a web designer's calendar just to make a few changes.
Doctors have complete control over how they want their IDA dental websites to look and feel. They can customize the designs with their own logos and with photos of themselves and their teams to relate more closely with prospective patients.
"There are more than 100 pages of dynamic, search engine optimized content for each IDA New Patient Marketing Portal," said Jim Du Molin, dental practice consultant and founder of Internet Dental Alliance, Inc. "Add that to our unique LeadFire technology, and you have a fast and efficient dentist marketing system that will generate targeted leads for you day and night."
Dentists can choose designs, content and images from IDA's extensive library website skins, articles and stock photos. Or they can write their own blog posts and use their own photos for more personalization.
About Internet Dental Alliance, Inc.
IDA is the largest North American provider of websites for dentists, email patient newsletters and dental directories. Known for its cutting-edge approach to dental marketing, it completed development of its advanced LeadFire technology in 2012. LeadFire's proprietary content generation technology makes it possible for doctors to generate new patient leads within minutes of set up, and uses organic geo-targeted local search, customized and optimized for each dental practice . Internet Dental Alliance provides dental website design, find-a-dentist websites, online newsletters and other dental practice management advice and internet marketing resources.