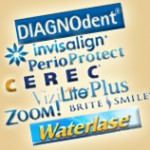 IDA's unique LeadFire technology -- combined with IDA's dental marketing expertise -- let dentists launch customized dental websites within minutes that generate high-quality leads day and night
(PRWEB) April 24, 2012
New dental marketing Web Portals from Internet Dental Alliance, Inc. (IDA) can be optimized to generate more than the typical leads based on geographical and market-targeted keywords. They can also be easily optimized to target product keywords, which are well known by search engine optimization professionals to be especially powerful for attracting customers who are ready to buy. IDA factors this into the dental website design of its Portals by providing a "Dental Products" area that can be used in at least 3 different ways to attract more patients.
First, dentists can take advantage of the thousands of marketing dollars that are being spent by manufacturers to promote their products. Second, dentists can leverage Google's local search algorithm which is configured to consider a web searcher's geographical location and display local sources for brand-name products. Third, dentists can feature and promote lesser known local or regional niche products they know their market wants.
"The "Dental Products" area is just one of the many ways you can customize your Web Portals within minutes to your individual dental practice," says Jim Du Molin, dental practice marketing expert and founder of Internet Dental Alliance, Inc. "The more details you include about what your practice offers, the more easily your website will attract the specific types of patients that you want to work with."
For example, dentists can take advantage of the corporate marketing that's already been done for name brand products. Prospective patients who are searching online for products such as Zoom!®, Invisalign®, Waterlase®, PerioProtect® and CEREC® have already gone through the searching-for-educational-information phase of the buying cycle, and are at the point of either comparing prices or finding a place to buy.
IDA's Portals provide doctors with web content designed to attract these prospective patients. The online library contains the logo images as well as pre-written pages for a number of the most popular dental products. Dentists also have the option to create their own custom dental marketing content for products not included in the library.
"IDA's unique LeadFire technology -- combined with IDA's dental marketing expertise -- let dentists launch customized dental websites within minutes that generate high-quality leads day and night," adds Du Molin.
About Internet Dental Alliance, Inc.
IDA is North America's largest provider of dental directories, websites for dentists and email patient newsletters. It completed its unique Lead Fire lead generation system in 2012. LeadFire technology automates dental SEO and content marketing and allows doctors to begin generating new patient leads within minutes of set up. It automatically optimizes IDA Web Portals for each dental office using geo-targeted local search terms. Internet Dental Alliance provides online dental marketing dental marketing services such as dental website design, marketing newsletters, and other dental management advice and resources.