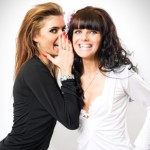 The "Tell-A-Friend" feature is a great low cost way to let your patients market your practice for you!
(PRWEB) April 30, 2012
New dental marketing Portals from Internet Dental Alliance, Inc. (IDA) provide built-in opportunities for patient prospects to share their new dentist with friends and family. The "Tell-A-Friend" button is an optional feature. When dentists activate it to display on their Portals, patients can send emails from the dental websites recommending their doctors. The "Tell-A-Friend" feature is a hands-free way for dentists to incorporate referral marketing into their online campaigns.
Referral marketing has been traditionally considered by many experts to be one of the most effective ways to gain new patients because it creates a "warm lead" – a prospective patient who hears about the dentist from a friend whom they know, like and trust. Potential patients who are "warm leads" will often call the office to set an appointment even if they've never visited the dental website simply because their friend or family member made the recommendation. The cost to acquire that kind of patient is next to zero.
"For best results, provide an incentive or special offer to include in the 'Tell-A-Friend' email," says dental marketing consultant Jim Du Molin, founder of Internet Dental Alliance, Inc. "The 'Tell-A-Friend' feature is a great low cost way to let your patients market your practice for you!"
IDA provides pre-written suggestions dentists can use to create their special offers. They can be edited to customize them to each dental practice, based on their services and treatments. Dentists also have the option to write their own.
When a patient sends the referral email, their friend gets an email with the recommendation and the special offer. The patient who makes the recommendation also gets an email confirmation, making it easy to follow up with their friend.
"The referral marketing feature is one of the ways IDA incorporates social marketing into the Portals," adds Du Molin. "We offer it because we want our members to have every tool available for their marketing success."
About Internet Dental Alliance, Inc.
IDA is the largest North American provider of websites for dentists, email patient newsletters and dental directories. Known for its cutting-edge approach to dental marketing, it completed development of its advanced LeadFire technology in 2012. LeadFire's proprietary content generation technology makes it possible for doctors to generate new patient leads within minutes of set up, and uses organic geo-targeted local search, customized and optimized for each dental practice . Internet Dental Alliance provides dental website design, find-a-dentist websites, online newsletters and other dental practice management advice and internet marketing resources.