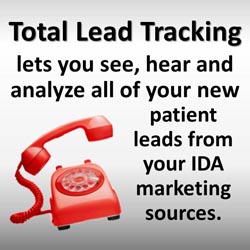 Lead tracking is the single best way to monitor the effectiveness of your dental marketing efforts.
(PRWEB) July 03, 2012
Lead tracking is an important component of successful online dental marketing campaigns. The new Portals from Internet Dental Alliance, Inc. (IDA) offer convenient options for dentists stay on top of their lead generation activities.
IDA offers three different levels of its New Patient Marketing Machine®, and they all allow doctors to manage and track each of their IDA lead generation sources from their IDA Control Panel. Doctors can see every lead that is generated from their IDA Dental Directory listings, and every email and phone call appointment request originating from their dental practice Portals, or dental websites. Dentists can even listen to recordings of actual incoming calls to monitor front desk response.
"Lead tracking is the single best way to monitor the effectiveness of your dental marketing efforts," explains Jim Du Molin, founder of Internet Dental Alliance and a former dental consultant. "No question about it. It lets you compare your different dental websites side-by-side. It lets you see which cities are producing the most new patients for your practice."
The Call Tracking Report provides the dentist with a list of everyone who has called the dental website's toll-free number to set an appointment, and displays the caller's phone number, location, and the call length.
The IDA New Patient Marketing Machine also includes Call Recording, which is turned on by default in the Control Panel. When left on, the dentist gets a recording to monitor how well the front office is converting new patient calls to actual appointments.
"Call recording lets you see how well your team is converting appointment requests into new patients," adds Du Molin. "It's the only way you'll really know what's going on when prospective patients call for the first time."
By reviewing recordings of appointment request telephone calls, you can accurately monitor the effectiveness of the dental practice's front desk team. Improving front desk skills can dramatically increase conversion from appointment requests to actual patients in the chair.
About Internet Dental Alliance, Inc.
IDA is North America's largest provider of dental marketing websites and dental directories. In 2012, it completed its cutting-edge dentist marketing Lead Fire lead generation system. Based on organic geo-targeted local search strategy which is customized for each dental office, LeadFire technology automates search engine optimization, and makes it possible to generate new patient leads within minutes of setting up the system. Internet Dental Alliance provides dental practices with online dental marketing services such as dental practice websites, website design, find-a-dentist websites, and other dental management advice and resources.