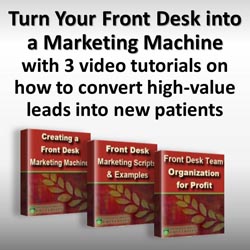 The number one problem in dental office management is a poorly-trained front desk.
(PRWEB) July 03, 2012
Dental marketing from IDA (Internet Dental Alliance, Inc.) handles the lead generation process from start to finish with bonus tutorials. The Front Desk Marketing Machine™ series of three training videos is included with every Professional or Premium level package of IDA's New Patient Marketing Machine™ for dental practices.
Topics covered by the three videos in this strategy series include how to create the practice's Front Desk Marketing Machine™; phone scripts for handling calls from new patients; and how to organize the front desk team for maximum profitability.
"The number one problem in dental office management is a poorly-trained front desk," says Jim Du Molin, founder of Internet Dental Alliance and a dental consulting expert. "I've seen doctors spend tens of thousands of dollars on dental marketing efforts, only to see their return on investment dwindle because the front desk team wasn't trained, organized or equipped to handle the new patient calls."
Based on Du Molin's decades of experience helping dentists create profitable practices, as many as half of potential new patients can be lost at the front desk. So training that team is one of the most effective ways to increase dental practice profitability.
The three-video dental marketing strategy involves no additional capital outlays or expenses. It is designed to educate dentists and team members in the step-by-step methods they can use to convert high-value leads into actual dental appointments. In addition to the videos, the tutorials include sample recordings that demonstrate how to analyze telephone answering techniques; scripts for answering calls; and exact job descriptions for each front desk role.
"When you invest in marketing campaigns, not training your front desk is like throwing money away," adds Du Molin. "Acquiring new patient leads is not the real return on investment. Your front desk needs to convert that call into a patient. And you, the dentist, need to give them the tools and training to do that."
About Internet Dental Alliance, Inc.
IDA is the largest provider of dental directories, websites for dentists and online dental marketing tools in North America. In 2012, it completed its unique Lead Fire lead generation system, which automates dental SEO and content marketing. LeadFire technology allows doctors to begin generating new patient leads within minutes of set up. It uses organic geo-targeted local search which is customized and optimized for each dental office. The Internet Dental Alliance provides dental practices with internet dental marketing services such as dental website design and other dental management advice and resources.