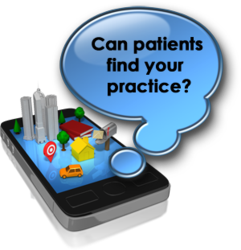 Mobile marketing for dental practices is no longer a luxury – it's a necessity.
(PRWEB) August 20, 2012
Internet Dental Alliance, Inc. (IDA) now includes mobile dental marketing tools with all of its New Patient Marketing Plan™ websites, or Web Portals. Now that most cell phone carriers across the United States are offering affordable 3G or 4G internet access, the number of smart phone and tablet device owners who use the web to find information about local services has reached critical mass – and IDA is at the forefront providing the online dental marketing products doctors need to successfully compete in today's challenging market.
The Starter package features one IDA New Patient Portal and is designed for doctors who want a powerful, feature-rich dental website. It's equipped with a basic mobile landing page and all the tools a dentist needs to launch a full scale online dental marketing campaign. The Premium package is designed for large practices with multiple associates or more than one office location. The Professional package offers the best value for dentists who want to maximize dental advertising for more than one clinical skill.
"Mobile marketing for dental practices is no longer a luxury – it's a necessity," says dental marketing guru Jim Du Molin, founder of Internet Dental Alliance, Inc. "Most regular websites don't automatically display properly on mobile devices. So it's crucial for dental practices to have an effective mobile app so consumers using smart phones and iPads can find them."
Both the Professional and Premium packages feature interactive mobile applications that allow patients and prospects to read about the practice's services and the dentists' credentials, and fill out online appointment forms from their iPhones or tablet devices. Dentists don't need to do anything extra to get the full benefit of mobile search traffic. Doctors who subscribe to IDA's New Patient Marketing Plan™ will automatically continue to generate a stream of new patient leads as more and more people add internet access plans to their cell phone services.
About Internet Dental Alliance, Inc.
IDA provides dental management advice and customized resources to dental practices, including online dental practice marketing dental practice marketing services such as website design, find-a-dentist websites and dentist web sites which are search engine optimized based on dental market (dental SEO). Internet Dental Alliance is North America's largest provider of websites for dentists, email patient newsletters and dental directories. In 2012, it completed its advanced Lead Fire lead generation system, which automates content marketing, can be set up within minutes, is based on organic geo-targeted local search, and is customized for each dental office.