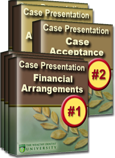 One of the simplest strategies to increase your practice's profits is to Improving your case acceptance -- and it costs nothing to implement.
(PRWEB) September 02, 2012
Internet Dental Alliance, Inc. (IDA) is now offering internal dental marketing tutorials as a bonus to subscribers of its new multiple website packages. IDA's New Patient Marketing Machine™ is a turnkey internet dental lead generation program that features dental website (Portals), automatic search engine optimization (SEO), professionally written and produced website content, Dental Directory listings, and other online tools designed to generate a steady stream of targeted leads for dental practices. The internal marketing bonus trainings are designed to help dental teams convert and maximize those leads in order to increase dental practice profits.
For example, "The Ultimate Case Presentation Program Video Tutorial" is a three part tutorial for doctors and their teams that teaches dental marketing tips for profitable financial arrangements, specific steps for successful case presentation, and skills for case acceptance. The training can help dental practices increase profits in two ways. It can be used when the dental team is handling inquiries from prospective patients that come into the practice as a result of New Patient Marketing Machine™ campaigns. It can also be used with existing patients to help them commit to longer term, higher-value treatments they need but have been putting off for any number of reasons.
"One of the simplest strategies to increase your practice's profits is to Improving your case acceptance -- and it costs nothing to implement," says Jim Du Molin, former dental management consultant and founder of Internet Dental Alliance. "It's all a matter of how well you do your case presentations, which financial options you offer, and the way your financial coordinator presents these options to patients."
IDA's multi-site New Patient Marketing Machine™ packages provide either five or ten Portals that each target a specific type of new patient the practice wants to attract, based on the doctor's preference and clinical skills – for example general dentistry, cosmetic dentistry, gum disease treatments, dental implants, etc. These packages also feature, built-in lead tracking, Facebook pages, access to IDA's Premium Video Library, and interactive mobile website apps. Additional bonus tutorials include "Internal Marketing & Communications", and "Front Desk Marketing Machine".
About Internet Dental Alliance, Inc.
IDA is the largest North American provider of websites for dentists and dental directories. Known for its cutting-edge approach to dental marketing, it completed development of its advanced LeadFire technology in 2012. LeadFire's proprietary content generation technology makes it possible for doctors to generate new patient leads within minutes of set up, and uses organic geo-targeted local search, customized and optimized for each dental practice . Internet Dental Alliance provides dental website design, find-a-dentist websites and other dental practice management advice and internet marketing resources.