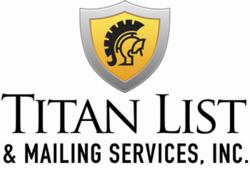 what's interesting about direct mail is that it puts the power back into the doctor's hands. They don't have to rely on the referral service to get them new business
Deerfield Beach, FL (PRWEB) September 04, 2012
Titan List and Mailing Services, a leading direct mail company in the mortgage industry, has recently expanded its operation into the medical industry. Jared Braverman, Director of Marketing at Titan Lists, touted a growing interest among medical specialists in direct marketing campaigns as reason for the move. The rise in medical direct mail marketing is due to the cost effectiveness of campaigns that, for very little capital, have the capacity to pay for themselves with a single customer response. Dentists are one area in the medical field in which Titan has seen very good results.
"We've been dealing with a lot of dentists recently," said Braverman. "Dentistry seems to have a lot of turnover in customer retention so there are a lot of potential patients that are in need of dental work or are simply looking for a new dentist. Dental specialists are especially receptive to direct mail advertising due to the high ROI from signing up new customers. We have the data lists available to target these potentially lucrative clients."
Braverman went on to explain that both small and large medical practices suffer from lethargic new customer inquiries. Rather than wait for their referral service to send more patients, doctors are preemptively seeking out new customers to increase profits. More often than not, they are using direct mail to do so.
"The problem some medical firms run into is that they aren't getting many walk-ins. They are hidden away in office buildings and need to find good advertising opportunities," said Braverman. "They work through referral services, partnerships, and word of mouth. But what's interesting about direct mail is that it puts the power back into the doctor's hands. They don't have to rely on the referral service to get them new business. We can actually market directly to the client base that practitioners want to see walk through their doors."
Although Titan List operates in any market, many businesses from various industries have been requesting mail or phone lists to launch marketing campaigns targeting a broad range of consumers. Medical industry businesses, for example, have been purchasing data lists that target patients with specific medical conditions, specific insurance providers, families with children or families that have relocated. This information is invaluable if paired with a professional and inviting mail piece. Braverman thinks direct mail for medical advertising is beneficial to both the business and the consumer, because when a consumer with a specific medical condition or need is presented with a relevant advertisement, they are given information and resources that can prove to be very important. They gain a sense of control over their treatment. The choice of where they get care becomes theirs, not a faceless insurance company. While this may seem small, Braverman asserts that this idea of personal power seems to play into the area of medical care more so than in other industries.
"Medical advertising is effective because the procedures are necessary. Consumers are going to get them done somewhere," said Braverman. "With the right marketing team the results are almost guaranteed when it's considered that, with the price of medical treatment what it is, one customer has the potential to cover the cost of the entire ad-campaign. It's worth it and our successful expansion into the medical advertising industry certainly seems to prove that."
ABOUT TITAN LIST & MAILING SERVICES, INC.
Titan List & Mailing Services is a full service direct marketing agency specializing in direct mail, printing, data lists (mail or phone lists), graphic / web design, and internet marketing / SEO. Founded in 1998, Titan List has a spotless track record and an A+ BBB rating. Titan's team of highly qualified individuals has experience in marketing trends that fit your business. Unlike other agencies that outsource their work, Titan List handles your entire campaign in-house - Data Lists, Design, Printing, Mailing, and Postage - All under one roof
For more information please call or visit: http://www.TitanLists.com | 800.544.8060