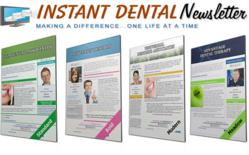 The newsletter is a tool designed to help carry a cohesive, lasting message to patients and their associates.
Denville, NJ (PRWEB) April 11, 2012
Through a dental newsletter, dentists can subscribe patients to receive regular updates, health updates and even practice information directly to the inbox, all the while marketing services to existing and potential clients.
"By engaging with their patients actively, and providing relevant information to help improve their health, dental subscribers to Instant Dentist Newsletter instantly become known as leading providers," Chhoda said. "In addition, by proactively reaching their clients, dentists show they care about their patients and want to engage with them for their long-term health."
By simply conducting some basic outreach and engaging clients, a practice is poised to experience explosive growth, Chhoda added. The newsletter is a tool designed to help carry a cohesive, lasting message to patients and their associates.
Chhoda, who specializes in building and improving practices through dental marketing and educational newsletter content for patients, provides business, marketing tips and strategies for therapists to help them grow their practices.
Instant Dental Newsletter is a content-rich dentist marketing solution that boosts internal referrals from patients with word-of-mouth promotions. It quickly collects email addresses from patients who visit a practice's website by providing instantly downloadable eBooks, which can be accessed after entering name and email address on the practice's website. Two times a month, the Instant Dental Newsletter system automatically delivers an engaging newsletter to patients and doctors in any given local community, without the practice to having to lift a finger.
Instant dental newsletter is easy to use and runs on complete automation. For more information on the product or to view a full list of features, visit http://www.instantdentalnewsletter.com.
To read more about Nitin Chhoda's educational series, visit http://www.nitin360.com.
About Instant Dentist Newsletter
The Instant Dentist Newsletter is a 21st century marketing solution for today's busy private practice. Each month, Instant Dentist Newsletter automatically delivers two content-rich newsletters to a practice's patients without them having to write a single word. The result: more new patients, increased credibility with doctors and qualified referrals from newsletter readers.