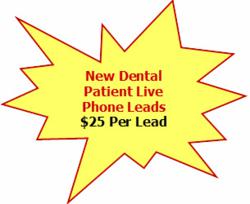 "This program is designed for the dentist that wants to spend his marketing dollars on results and real leads and not on just the promise of leads that are offered by many other online dental marketing companies," said Tom Parker
Tampa, FL (PRWEB) February 29, 2012
DentalMarketingLocal.com announces new dental marketing program designed so dentist only pay for actual leads. The new patient dental leads provided are primarily, exclusive phone leads, but also include online request for dental appointments. Pricing starts at $25 per lead, which offers a dental practice a very large return on investment with the average new dental patient generating over $800 in the first year.
"This program is designed for the dentist that wants to spend his marketing dollars on results and real leads and not on just the promise of leads that are offered by many other online dental marketing companies," said Tom Parker, owner of DentalMarketingLocal.com. Mr. Parker also said, "We only want our clients to pay for services that generate new patients and long term growth and profit for their dental practice. We only think that is fair."
With this program DentalMarketingLocal.com designs a website landing page to promote the local dentist. The website is optimized to generate new patients by leading the patient to call or fill in an appointment request form. Each call and form is tracked so results can be verified by the dental practice and the dentist only pays for valid leads. The marketing is customized to meet the needs and wants of each dental practice.
DentalMarketingLocal.com will only accept one dental practice in each city. Mr. Parker said, "Unfortunately, we can only work with one client in each area. This allows us to give each client our full attention and not have our dental marketing clients competing against each other."
Dental Marketing can and should consist of many different strategies. Post card dental marketing, yellow pages dental marketing, online dental marketing, and newsletter dental marketing are just a few of the strategies that have proven to work. Pay per lead dental marketing is one of the easiest to track and verify that the dental practice is getting a good return on investment for their marketing dollars.
DentalMarketingLocal.com is a dental marketing company and online dental lead generation company. They focus on providing new patient dental leads to local dentist practices on a pay per lead basis.
To obtain more information on this subject or schedule an interview with Mr. Parker, contact him at 888-300-1434 or through his website at http://DentalMarketingLocal.com.
# # #