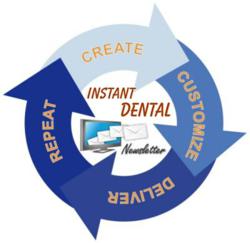 It's vital that patients understand the benefit of providing the information or they won't do it.
Denville, NJ (PRWEB) February 09, 2012
"No professional should overlook a method of maintaining contact with patients," said Chhoda. "In today's world, that can include a phone call, email, text messaging or website."
Today's client lives a hectic life, with meals, entertainment and health care obtained on the run. A complete record for every patient provides flexibility for contacting clients in the manner they find most convenient. Chhoda has found that many patients have eschewed traditional landlines in favor of mobile communications, which can take a variety of forms. He suggests keeping complete information available for doctors and other professionals who make referrals to the dental practice.
Essential information for each patient includes their name, mailing address and email, along with their home and work phone numbers, cell phone number and website if they have one. It provides dentists with multiple opportunities to contact patients via regular mail, email and SMS text messaging, or by phone and even dental newsletter.
The information can be obtained through verbal means or through patient information forms. It's vital that patients understand the benefit of providing the information or they won't do it. With identity theft running rampant, it's essential that clients know their information will be protected with the highest level of confidentiality.
Chhoda has helped dentists, chiropractors and physical therapists develop their most important asset – complete patient contact information. The relationship between dentists and their patients is essential for success. Clients want to know their patronage and hard-earned dollars are appreciated. Maintaining frequent and relevant contact with patients to provide appointment reminders, a thank you or follow up message helps build trust, good patient-doctor relationships and a practice that thrives.
Chhoda's office can be reached by phone at 201-535-4475. For more information, visit the website at http://www.nitin360.com.
ABOUT NITIN CHHODA
Nitin Chhoda is a licensed physical therapist, a doctor of physical therapy, and a certified strength and conditioning specialist. He's the author of "Total Activation: The New 5 Step Fitness Mantra" and "Marketing for Physical Therapy Clinics." He's been featured in numerous industry magazines, major radio and broadcast media, and is the founder of Referral Ignition training systems, Private Practice Summit, the Private Practice Formula and the Private Practice Mastermind group. Chhoda speaks extensively throughout the U.S., Canada and Asia. He's the creator of the Therapy Newsletter, along with Clinical Contact, a web-based service that boosts patient arrival rates.
###