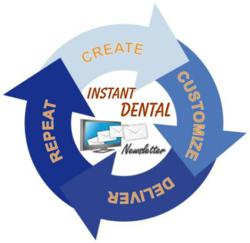 Creating urgency by offering specials for a limited time are especially effective, as is providing patients with the benefits of selecting a particular practice.
Denville, NJ (PRWEB) February 16, 2012
"Brand building in a service oriented profession is a complete waste of time," said Chhoda. "There are three dangerous facts that the big organizations and their highly paid 'brand consultants' sitting behind their oak desks completely overlook."
The first problem with branding is that patients typically only think about their dentist when they're in need of services. Chhoda noted that ads, marketing campaigns and social networking efforts fall on deaf ears unless the patient has a problem that must be addressed. It doesn't make sense to brand a dental practice to those who don't need a dentist.
Most marketing experts convince their dental clients that they can create memorable marketing strategies that will convince patients to seek their services above all others. The reality is that patients choose a dentist for a wide variety of reasons, ranging from quick appointments to unique payment options. Most patients will give their business to dentists who specialize in a particular service they need, from "dentistry for cowards" to cosmetic procedures.
The third problem with branding is that it takes time to accomplish. When an individual decides to make an appointment, it's going to be based on an immediate need. Patients choose a dentist based on recommendations from family and friends, or the doctor's specialty.
"For a local business in a skill based profession, branding is a dangerous trend fed into our minds by archaic organizations that are meant to protect us and safeguard our interests, but are instead misled themselves by 'experts who understand consumer behavior,'" said Chhoda. "They have no idea of the ground realities, competition and financial pressures faced by private practice owners like you and me. Dentists will have more success with software systems such as dental newsletter."
Chhoda advises his clients to utilize strategies that include consultations and bringing a friend to the appointment who might be interested in offered services. Creating urgency by offering specials for a limited time are especially effective, as is providing patients with the benefits of selecting a particular practice. He noted that dentists must narrow their focus toward prospects that are predisposed to a particular service and motivate them with scarcity.
Chhoda said branding is a good strategy for companies that sell worldwide, but they're a waste of time, money and effort for small, local dental practices. He noted that branding for a small practice can actually be detrimental. Small practices obtain clients from within their local area. Dentists will see their patient numbers swell when they forget branding and focus on the needs of their local clients.
Chhoda's office can be reached by phone at 201-535-4475. For more information, visit the website at http://www.nitin360.com.
ABOUT NITIN CHHODA
Nitin Chhoda is a licensed physical therapist, a doctor of physical therapy, and a certified strength and conditioning specialist. He's the author of "Total Activation: The New 5 Step Fitness Mantra" and "Marketing for Physical Therapy Clinics." He's been featured in numerous industry magazines, major radio and broadcast media, and is the founder of Referral Ignition training systems, Private Practice Summit, the Private Practice Formula and the Private Practice Mastermind group. Chhoda speaks extensively throughout the U.S., Canada and Asia. He's the creator of the Therapy Newsletter, along with Clinical Contact, a web-based service that boosts patient arrival rates.
###