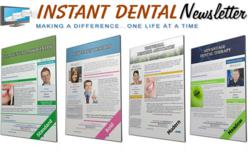 Acquiring new patients can be a costly process and Chhoda's techniques help ease the pain for dentists already suffering in a depressed economy.
Denville, NJ (PRWEB) March 06, 2012
"Once you know what PAC you are comfortable with, you can reverse engineer your dental marketing to drive more patients in your practice," said Chhoda. "When you are trying to drive more patients to your clinic, it's important to determine which channels bring you new patients at the lowest possible patient acquisition cost. Whatever method is used, on average, dentists should be able to make up the expense in no more than two visits at regular cost."
Chhoda says it's imperative that practice owners not limit themselves to a single media and to test multiple methods at the same time. He suggests running the same ad in different media, such as newspapers, letters and websites. The method allows dentists to discover which avenue garners the most initial responses and provides the framework for testing an array of variables.
The composition of the local population within a dentist's service area will play a large role in the type of advertising that's most effective, depending upon the target audience. Older patients are less likely to use the Internet or social media and respond more favorably to print ads, letters or postcards. Chhoda recommends an automated system such as dental newsletter, a cost effective means that allows for customization. Younger clients are more likely to view social media, websites and act upon online offers.
Free and reduced price offers are sure to pique the interest of both established patients and established clients. Depending on the offer, the PAC can be quite low. Chhoda noted that dentists have an extensive array of available options, from free consultations and eBooks to reduced rates for new patients or those who pay in a particular way.
Acquiring new patients can be a costly process and Chhoda's techniques help ease the pain for dentists already suffering in a depressed economy. Different methods will work more or less effectively, depending on the location, target audience, media and offer. Chhoda's tips provide different dentist marketing with multiple means of determining the lowest patient acquisition cost, while allowing them to maximize their return on investment.
Chhoda's office can be reached by phone at 201-535-4475. For more information, visit the website at http://www.nitin360.com.
ABOUT NITIN CHHODA
Nitin Chhoda is a licensed physical therapist, a doctor of physical therapy, and a certified strength and conditioning specialist. He's the author of "Total Activation: The New 5 Step Fitness Mantra" and "Marketing for Physical Therapy Clinics." He's been featured in numerous industry magazines, major radio and broadcast media, and is the founder of Referral Ignition training systems, Private Practice Summit, the Private Practice Formula and the Private Practice Mastermind group. Chhoda speaks extensively throughout the U.S., Canada and Asia. He's the creator of the Therapy Newsletter, along with Clinical Contact, a web-based service that boosts patient arrival rates.
###