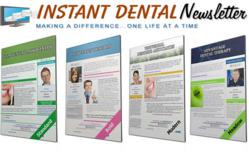 If producing a newsletter sounds too daunting, it can be outsourced to a professional company such as Dental Newsletter.
Denville, NJ (PRWEB) February 17, 2012
"A regular newsletter is the easiest and most economical way to get the attention of established patients and generate referrals of new clients," said Chhoda. "It provides a huge boost in credibility, but to be successful, there are certain elements that every newsletter must contain."
Content
Rich visuals and content that entertains and informs is an essential component of any patient newsletter. Chhoda noted that content must offer timely and relevant information and one of the ways to accomplish that is by theming articles to specific months or seasons or the availability of special offers. Content must be presented in an authoritative way, but it's critical that the tone be friendly and non-aggressive.
Timing
To get the maximum benefit from a newsletter, Chhoda suggests a schedule timed for delivery every other week. He noted that it's important to deliver timely information, but it must be accomplished in a way that doesn't annoy or nag patients.
Delivery
Chhoda says for the best results, dentists should ensure that their patient newsletter reaches clients on Monday. Patients are most likely to check their mail, messages and emails on Monday, allowing the dentist's message to remain on their minds throughout the week.
"If producing a newsletter sounds too daunting, it can be outsourced to a professional company such as Dental Newsletter." said Chhoda. "They can brand and customize newsletters for specific practices and handle subscriptions. It will save you time and energy that you can devote to your clinic. A well-crafted newsletter can translate into hundreds of referrals every month."
In Chhoda's experience as one of the nation's preeminent marketers of dental practices, he's found that a patient newsletter is one of the most cost effective means of retaining existing patients and attracting new clients. They help dentists build a rapport with patients, inform them of the practice's special services and establishes dentists as authorities in their field. Patients want to know their dentist thinks about them, even when they don't have an appointment. A dental newsletter does that with minimal time and effort, allowing dentists to focus on their practices.
Chhoda's office can be reached by phone at 201-535-4475. For more information, visit the website at http://www.nitin360.com.
ABOUT NITIN CHHODA
Nitin Chhoda is a licensed physical therapist, a doctor of physical therapy, and a certified strength and conditioning specialist. He's the author of "Total Activation: The New 5 Step Fitness Mantra" and "Marketing for Physical Therapy Clinics." He's been featured in numerous industry magazines, major radio and broadcast media, and is the founder of Referral Ignition training systems, Private Practice Summit, the Private Practice Formula and the Private Practice Mastermind group. Chhoda speaks extensively throughout the U.S., Canada and Asia. He's the creator of the Therapy Newsletter, along with Clinical Contact, a web-based service that boosts patient arrival rates.
###