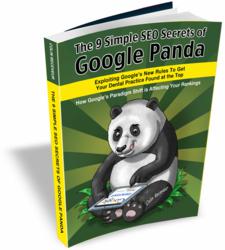 "This is the biggest shift I've ever seen in all of my years of working with dentists," said Colin. "Dentists need to be prepared and proactive. This report will show you everything you need to know."
New Albany, IN (PRWEB) November 10, 2011
"However, we were hit again on Wednesday, September 28th, once again losing more than half of our traffic. I think this might even be a bigger hit than last time."
This is just one of the dozens of comments we've received as a result of Google's "Panda" update (also known as the "farmer" update) that is hitting businesses and dentists all across the country. To understand the impact "Panda" has on dentists, you first need a little bit of background information.
It is no secret that dentists, like almost every other business sector, have increasingly relied on the web to attract new patients. The web is, after all, The New Yellow Pages.
Figures from multiple sources report that 95-97% of consumers go to the internet and their mobile phones to look for local businesses in their area. If a dentist is not on the web, they are not going to be found by the millions every month who search on the web (rather than phone books) to find local businesses. Furthermore, almost 70% of that traffic is controlled by Google.
Colin Receveur is a nationally recognized speaker, author, and internet marketing expert. Colin has been pioneering the way dentists market themselves online since founding SmartBox Web Marketing over a decade ago. "In all that time I've never seen a change from any search engine that has had such a big impact on dentists. This is huge."
"Now I'm getting calls from dentists asking for immediate help because their dental practice relies on the new patient flow from their dental website", said Receveur.
The "Panda Bite" is hurting many dentists. To help relieve the damage, Receveur has released a new book titled The 9 Simple SEO Secrets of Google Panda.
"This book will arm dentists with what they need to know regarding the Panda update, and to help them put their website back to the top of Google. The sooner dentists learn how to 'feed the Panda' and please Google's latest game-changer, the more likely it is that they will remain profitable and competitive in their local area."
Dentists are being offered a complimentary copy of Receveur's book. They can order their hardcopy on the SmartBox Web Marketing website at: http://www.smartboxwebmarketing.com/download-the-9-simple-seo-secrets-of-google-panda-special-report.htm.
"This is the biggest shift I've ever seen in all of my years of working with dentists," said Colin. "Dentists need to be prepared and proactive. This report will show you everything you need to know."
###