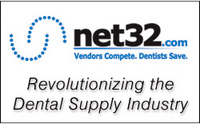 Cary, NC (PRWEB) September 11, 2007
Net32 announced today the release of a proprietary new data tool that allows upload of new vendors' products into the Net32 database in record time. There is virtually no limit to the number of new products that Net32 can load, and at greatly reduced cost. This exciting development eliminates a major barrier to entry for the many industry manufacturers and distributors interested in becoming Net32 vendor partners, who can now submit their full product lines for display and sale through the Net32 marketplace.
Donna Cassidy, President of Net32, stated "The powerful potential of the Internet to transform commerce is only realized with the deployment of unique and complimentary methodologies. Net32's patented comparison shopping e-commerce technologies are proving to be such a match. Our newly deployed service will increase our already substantial rate of penetration into the fragmented dental supply marketplace, bringing more benefits to both dental vendors and dentists in the process, as we continue to pursue our goal of revolutionizing dental product procurement in the United States."
About Net32, Inc:
Net32, Inc., is a pioneer in developing innovative technologies that form the backbone of totally integrated business to business online comparison shopping marketplaces. Net32's flagship single point comparison marketplace is found at http://www.net32.com.
For more information, contact:
Donna Cassidy, President
Net32, Inc.,
250 Towne Village Drive,
Cary, NC 27513
Phone: 800-517-1997
http://www.net32.com
dcassidy @ net32.com
###