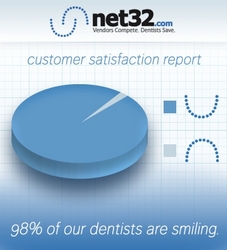 Will you recommend Net32 to your colleagues?
Cary, NC (PRWEB) September 3, 2009
Net32 today reported that dentists have provided the strongest ever endorsement of its dental marketplace in a recent ongoing survey. This survey was automatically sent to every customer eight days after they placed an order at http://www.net32.com, allowing enough time for most products to be received by dental offices throughout the USA. To date 98% of those completing the survey answered "Yes" to the question "Will you recommend Net32 to your colleagues?"
The company attributes this high customer approval rate in part to the tremendous savings that result from a multitude of vendors competing in a single marketplace for dentists' business. This, combined with a unique and powerful overall shopping experience and an ever expanding product offering, motivates dental professionals to tell their colleagues about the Net32 marketplace.
Donna Cassidy, President of Net32, stated "We are gratified by the positive responses that our buying customers have been sharing with us in our post-order survey, particularly in regard to their desire to invite others to use our industry leading http://www.net32.com marketplace to purchase dental products for their practices. This level of customer support parallels the overall high growth rate that we continue to enjoy in the face of challenging economic times. All of this is made possible by powerful customer centric capabilities inherent in our patented comparison-shopping methodology, supported by outstanding personal customer service."
About Net32, Inc:
Net32, Inc., is a pioneer in developing innovative technologies that form the backbone of integrated business to business online comparison shopping marketplaces. Net32's single point comparison marketplaces are found at http://www.med32.com and http://www.net32.com.
###