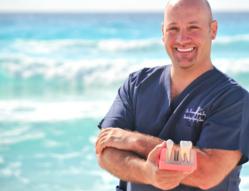 We guarantee the quality of all our dental treatments at prices Americans can actually pay.
(PRWEB) August 14, 2012
An increasing number of Americans and Canadians are having their dental needs addressed during vacation. Recently, a leading Cancun dentist, Dr. German Arzate, was recently featured in Newsweek Magazine's July 2012 Double Issue, in the Nationwide Promotional Leaders in Dentistry Showcase because of his important role in dental tourism in Mexico. His clinic is known for its fully trained and certified doctors and assistants and is located near one of the most beautiful beaches in the world, Cancun Mexico. Dental tourism has becoming increasingly popular in recent years for a variety of reasons.
North Americans are traveling out of the country to have dentistry techniques performed, including dental implants and cosmetic procedures. While patients from the U.S. and Canada can choose from many options for global dentists, Cancun is the preferred choice. This popular location is not only easily accessible via air travel; it's also the perfect place to enjoy a respite on Mexico's most stunning beaches.
Dental care costs have risen substantially over the years, while the number of individuals who can afford it has fallen. Oral healthcare insurance has become inaccessible to many, simply because it is too expensive. The Institute of Medicine (IOM) has stated that millions of Americans are neglecting their dental needs for this reason. This Institute also reported that even patients with health coverage are still often forced to pay substantial out-of-pocket costs due to high co-pays and the fact that many procedures, such as cosmetics, aren't covered by insurance.
Dr. German Arzate of Cancun Cosmetic Dentistry stated, "We guarantee the quality of all our dental treatments at prices Americans can actually pay," Dr. Arzate had good reason to be in the Newsweek's promotional leaders in Implant dentistry 2012 showcase. He has built his reputation by performing top quality, affordable procedures in a surprisingly short time frame.
This popular Cancun dentist, assures his patients, "We will create your Hollywood smile in just one week."
In addition to being an accomplished dental practitioner, Dr. Arzate is an artist. He has been sculpting marble and wood as a hobby for years. He uses his artistic talent and aesthetic eye, along with his scientific knowledge to provide the most beautiful results for his patients.
Materials for all procedures performed at Dr. Arzate's clinic are imported from the United States, Germany, and Japan. His staff uses the highest level of sterilization techniques, including the use of filtered water. All staff members of this renowned clinic speak English fluently in order to communicate easily with patients from North America.
Having healthy and attractive teeth and gums should be accessible to all individuals, regardless of whether they have medical insurance or are financially flush. By choosing a Cancun dentist like Dr. German Arzate of Cancun Cosmetic Dentistry, having a beautiful smile as well as a vacation at the beach is possible.
About Dr. German Arrzate
German Arzate DDS MS is the founder of Cancun Cosmetic Dentistry, a specialized clinic located in the heart of Cancun. As leaders in dental tourism in Mexico, each year they receive hundreds of Canadian and American patients seeking first class dental work at affordable prices. He is specialized in a number of treatments, including maxillofacial prosthodontics, oral and maxillofacial surgery, bone regeneration and maxillary growth, orthodontics, and restorative dentistry. He is also a well-known sculpture artist in marble and wood, a hobby he has since early years.