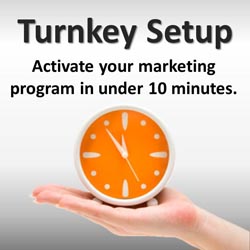 From a single Control Panel, dentists can launch and manage 24/7 dental marketing campaigns that attract a steady stream of new high-value patients every month
(PRWEB) November 10, 2012
Successful online dental marketing relies on the effective use of lots of 'geeky' moving parts, like search engine optimization (SEO), targeted keywords, dental website design that has good layout and site navigation, just to name a few. The dental marketing experts at Internet Dental Alliance, Inc. (IDA) know that busy dentists don't have time to keep track of all those moving parts – or to become bonefide 'internet geeks' -- so they designed IDA's new turnkey dentist websites to be easy enough for a doctor or trusted staff member to set up and activate in less than 10 minutes.
IDA's dental practice websites, or New Patient Portals, are at the center of its New Patient Marketing Machine™. Each Portal features automatic search engine optimized (SEO) for a specific dental market that the doctor chooses, as well as local SEO based on the practice's address and up to five more local markets the doctor selects. These can include the name of one county and up to four more names of nearby cities, towns, neighborhoods, districts or places where potential patients would likely be found.
Doctors or their staff member enter all of the practice information and selections into their online Control Panel. When they're ready, IDA's proprietary content publishing technology optimizes all of their Portal's web pages within minutes. The practice's optimized and customized dental website is then active online 24/7 to attract new patients.
"IDA's New Patient Marketing Machine™ takes dental websites and online lead generation to the next level," says dental marketing guru Jim Du Molin, founder of Internet Dental Alliance, Inc. "From a single Control Panel, dentists can launch and manage 24/7 dental marketing campaigns that attract a steady stream of new high-value patients every month."
The Control Panel gives dentists access to hundreds of professionally written dental information articles they can publish on their Portals for quick website set up, and to educate visitors about dental treatments, oral hygiene and popular name brand products such as Invisalign® clear braces and Zoom® teeth whitening treatments. These topics are strategically selected because of their popularity with consumers, and their potential to attract targeted audiences. Of course, dentists can also easily upload their own articles to their Portal for even more customization.
About Internet Dental Alliance, Inc.
IDA is the largest provider of dental directories, websites for dentists and email patient newsletters in North America. In 2012, it completed its unique Lead Fire lead generation system, which automates dental SEO and content marketing. The Internet Dental Alliance provides dental practices with online dental marketing services such as dental website design, marketing newsletters, and other dental management advice and resources.