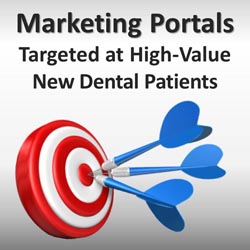 IDA Portals help you brand your practice for the clinical skills and dental treatments you want to be known for.
(PRWEB) December 31, 2012
In some cities, there's a lot of competition from all the new dentists who have opened practices during the past several years. The new dental marketing websites (New Patient Portals) from Internet Dental Alliance, Inc. (IDA) let dentists easily set up lead generation campaigns based on their high value clinical skills and create a steady source of the specific kinds of new patients that dentists choose fro their practice.
IDA purposely makes its Portals easy for a dentist or team member to customize and set up in just a few minutes using their online Control Panel. The doctor chooses which dental care market they want for their Portal's focus from more than 25 high-demand consumer treatments that IDA has researched and identified. Then, after adding specific information about their practice, and making a few more choices about their Portal's design, their customized Portal is ready in less than 10 minutes to generate new leads.
"IDA Portals help you brand your practice for the clinical skills and dental treatments you want to be known for," says dental marketing expert Jim Du Molin, founder of Internet Dental Alliance, Inc. "This helps increase word-of-mouth advertising, and can also boost referrals from other dental professionals who may not know all of the kinds of treatments you offer."
IDA provides dentists with hundreds of pre-written articles they can choose from to publish on their Portals, and to attract and educate new patients. Topics include sleep apnea, TMJ treatment, cosmetic dentistry, root canal therapy, dental implants, and many more.
These articles work in conjunction with IDA's automated search engine optimization (SEO) technology to populate the Portal with hundreds of optimized pages in minutes. IDA's SEO technology manages both the dental care market keywords and the geo-targeted keywords that are important for local search. Dentists can target up to five local markets in addition to their practice's make location.
Visit http://InternetDentalAlliance.com for more details about IDA's New Patient Marketing Machine™ dental practice marketing packages.
About Internet Dental Alliance, Inc.
IDA is North America's largest provider of websites for dentists and dental directories. Known for its cutting-edge approach to dental marketing, it completed development of its advanced LeadFire technology in 2012. LeadFire's proprietary content generation technology makes it possible for doctors to generate new patient leads within minutes of set up, and uses organic geo-targeted local search, customized and optimized for each dental practice . Internet Dental Alliance provides dental website design, find-a-dentist websites dental practice management advice and a variety of other valuable internet marketing resources.