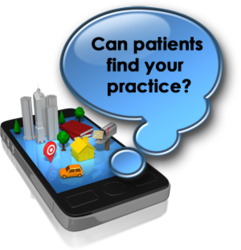 Mobile Internet search from smart phones and portable tablets has skyrocketed!
(PRWEB) June 27, 2012
Mobile search is already a large portion of Internet search traffic, and it's only growing. To keep up with the growing demands of internet dental marketing, the Internet Dental Alliance (IDA) has added mobile dental website pages to its dentist marketing programs.
"Mobile Internet search from smart phones and portable tablets has skyrocketed," explains Jim Du Molin, founder of IDA and a former dental consultant. "It now makes up to 20% of all local searches, including dentistry. But many dental websites aren't set up to be mobile-friendly."
Many people search for a dentist using their cell phone, iPhone, iPad, tablet, or other mobile device. IDA's mobile dental marketing program aims to rank a practice at the top of the search engines' mobile results, making it easier for new local patients to find the practice.
"We automatically direct visitors to either your full dental web marketing portal or your specially designed mobile website, depending on the sort of device they're using," continues Du Molin. "We highlight the primary new patient dental market you are targeting (this might be braces, cosmetic dentistry, dental implants, etc.), in your city and the surrounding four major geographic markets for your practice."
The data displayed on IDA mobile dental websites is the same as on regular websites, but in a mobile-friendly format. Any change a dentist makes to his or her web marketing portal will automatically be updated on the mobile pages. These pages can list up to five doctors, two locations, and six coupon offers. In addition, every mobile page features a button that lets patients request an appointment online.
"Mobile visitors can always toggle between the 5 primary screens: your Home Screen, Appointments, Coupons, Doctor Information, and Map and Hours," says Du Molin. "Our immediate goal is to get the web visitor to call the practice directly. We also have a call-to-action button for online appointment requests."
"We build separate mobile websites that mimic each of our IDA web marketing portals," he continues. "When a dental consumer wants to find a dentist online, they generally search by the type of dentistry they are looking for: sedation dentistry, dentures, braces, etc. They also search for the closest local city."
About Internet Dental Alliance, Inc.
IDA publishes the Dental Marketing Intelligence Report™, and is the largest provider of dental directories, dental website design and websites for dentists in North America. In 2012, it completed its unique Lead Fire lead generation system, which automates dental SEO and content marketing. LeadFire technology allows doctors to begin generating new patient leads within minutes of set up. It uses organic geo-targeted local search which is customized and optimized for each dental office. Internet Dental Alliance provides dental practices with online dental marketing services and other dental management advice and resources.