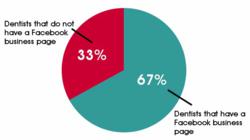 IDA designs your practice's Facebook tabs so they integrate seamlessly with your dental website's pages.
(PRWEB) October 04, 2012
The easiest way to add social media to a dental marketing campaign is to integrate the practice's website with a Facebook page and optimize it using tabs. The online experts at Internet Dental Alliance, Inc. (IDA) know that can sound daunting to many dentists who are already busy treating patients and managing their offices. That's why IDA offers integrated Facebook pages and tabs with its Professional and Premium New Patient Marketing Machine™ packages.
Since Facebook is now one of the internet's largest social gathering places for people of all ages to connect with friends and family, it makes good marketing sense for dental practices to have a presence there. In order to make it easier for dentists to see a return on the time invested, IDA takes care of the setting up the tabs to integrate with the practice's website, doctor, office information pages, special offers, directions and map to the office location. Visitors to the practice's Facebook page can even fill out an appointment request form – a smart marketing tactic since many Facebook users never leave that site when they're online.
"IDA designs your practice's Facebook tabs so they integrate seamlessly with your dental website's pages," explains Jim Du Molin, dental marketing guru and founder of Internet Dental Alliance, Inc. "Most doctors are too busy treating patients to set up new internet marketing tools, so we make Facebook marketing easy for you!"
In addition to the Facebook marketing solution, IDA's turnkey dental marketing packages feature multiple search engine optimized dental marketing websites (also known as New Patient Portals), automatic lead tracking reports, listings in IDA's online dental directories and a host of other tools that make it easier for dentists to manage targeted online lead generation campaigns. Dentists can customize each of their Portals at any time, day or night, using their convenient Control Panel. To maximize the number of new dental patients each month, IDA recommends that dentist's use one lead generation Portal for each type of clinical skill they want to promote.
About Internet Dental Alliance, Inc.
IDA provides dental management advice and customized resources to dental practices, including online dental marketing services such as website design, find-a-dentist websites and dentist web sites which are search engine optimized based on dental market (dental SEO). Internet Dental Alliance is North America's largest provider of websites for dentists and dental directories. In 2012, it completed its advanced Lead Fire lead generation system, which automates content marketing, can be set up within minutes, is based on organic geo-targeted local search, and provides customized dental office marketing.