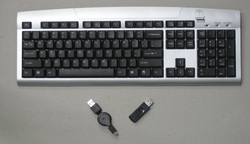 Dentist have been asking Man & Machine to develop a wireless version of our popular waterproof, hygienic keyboards and now we have what they are looking for
Landover, MD (PRWEB) November 19, 2008
Man & Machine, Inc., a leading manufacturer of hygienic waterproof keyboards and mice, introduces the U Hot, the company's first wireless keyboard for the dental practice. The keyboard works for days without needing to be recharged, giving the user the freedom of movement in and around the dental operatory. To recharge, simply plug the keyboard into any computer with the included USB cable.
The U Hot Keyboard can be rinsed and submerged in water. The capacity for the U Hot to be thoroughly washed reduces the quantity of surface germs and therefore mitigates infection risk to dental team members and patients. The inside of the keyboard is sealed to protect it against fluids, such as blood, saliva, food, drink, and most cleaning agents. Drainage holes in each key pocket allow excess water or spilled fluids to quickly exit the keyboard before causing damage. These features do not disrupt typing comfort; the U Hot looks and feels like a normal keyboard.
"Dentist have been asking Man & Machine to develop a wireless version of our popular waterproof, hygienic keyboards and now we have what they are looking for," said Clifton Broumand, CEO, Man & Machine, Inc. "This looks like it will be our biggest seller to the dental market" indicated Broumand.
The U Hot Keyboard is available either directly from Man & Machine or through Henry Schein, the leading supplier of products for dental practitioners and laboratories.
Other Dental Products from Man & Machine:

Man & Machine, Inc. is an international provider of leading edge computer accessories focusing on medical, governmental, industrial and general office environments. Products include waterproof keyboards and mice, mobile keyboards for the RIM Blackberry, LCD privacy monitors for HIPAA compliance and financial security, and customized products to meet client's unique applications. The company was founded in 1982 outside of Washington, DC with satellite offices in New York, Tennessee, Florida, The Netherlands and China. Man & Machine, Inc. adheres to a strict environmental code for the sustainability and protection of our environment. Please visit Man & Machine
###