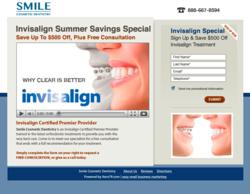 "After working with dentists for the past year we are now launching a beta version of our online marketing program allowing more dentists to try it for free, including their own personal assistant to help them get started. - Scott C. Berg, Motiva79, CEO
San Diego, CA (PRWEB) April 27, 2012
The Internet Marketing Expo offers seminars to help small businesses connect with more customers through Constant Contact Email, Google Search, Twitter, Blogs and Linkedin. But what happens after you connect with them?
Motiva79, an internet marketing agency, has designed an online platform that helps small business owners manage their online marketing communication all from one place to complete the circle. Small business owners use the platform to design online promotions and coupons then easily distribute their offers to new and existing customers via Google, Facebook, Twitter and Constant Contact. Each promotion is designed to capture new leads right into their built in customer database. Easy tracking dashboards show how many marketing messages were sent out, the number visits to their promotion, the number of leads captured and the number of coupons printed out to be redeemed. Plus, with Constant Contact synced directly into the platform, each new lead can receive auto response email follow up offers encouraging even more sales.
Motiva79 is Launching New Online Marketing Program for Dentists
Coming Soon! Motiva79 will soon be launching a new online marketing service designed specifically to help dentists and orthodontists. "After working with local dentists for the past year we have designed an online marketing solution that's easy, fast and affordable for dentists to sell more of their products and services using search, social and email, while taking only minutes to manage. We are releasing it into a private beta and offering a chance for qualified dental offices to use the solution during our beta period at no charge", says Scott C. Berg, Motiva79, CEO.
If you are a dentist or orthodontist and qualify for the program, you'll be assigned an online marketing expert to help you set up your account as well as personalize your online promotions, coupons and social messages making it easy for you to reach more customers. To sign up for the program by emailing Scott Berg at info(at)aero79(dot)com. Please mention the "Dental Online Marketing Program" and include your name, phone number and email address.
Online marketing can be a powerful, affordable way for small businesses to reach more customers and increase sales. The Internet Marketing Expo is a great place to learn all about new marketing services that can help your small business grow.