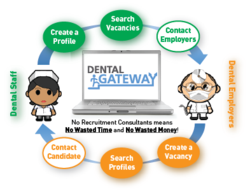 We hope that with our new website we will make the whole process of dental recruitment even more effective, replacing expensive dental recruitment agencies with the power of online social networking
(PRWEB UK) 28 November 2012
Dental Gateway, the UK's leading online dental recruitment portal, is pleased to announce the successful relaunching of their website. The changes introduced now offer an even wider range of tools and facilities to both dental professionals looking for dental vacancies and dental employers looking for suitable candidates.
Dental Gateway believe that the newly revised site will help to make dental recruitment easier for both candidates and employers, capitalising on the growth in popularity of networking sites such as Facebook and Twitter.
The website was originally set up by a team of dental professionals in response to the growing dissatisfaction within the dental recruitment industry, with those looking for dental jobs often kept waiting for weeks, and employers forced to pay extortionate recruitment fees.
The main significant difference offered by Dental Gateway is the complete removal of recruitment consultants. This removal of the middlemen means the removal of hiring fees, the removal of delays, and the empowerment of both employers and candidates.
The re-launched website now offers candidates the opportunity to upload their CV's for free, search thousands of dental jobs online, apply for suitable jobs, contact potential employers directly and find their next position, all without any middlemen, barriers, fees or delays.
MAKING DENTAL RECRUITMENT MORE AFFORDABLE FOR EMPLOYERS...
Employers are able to publish details of dental vacancies on the site with no fees or costs to pay. They are able to browse and search an unlimited number of candidates' CVs for free, and then purchase the contact details of up to 10 of their favourite candidates, provided those candidates have authorised the release of their contact details through the site.
Candidate contact details are available for purchase once a candidate has applied for a vacancy, meaning that employers only ever pay for candidates who have applied for their specific vacancy. It also protects the candidates' from unsolicited enquiries from employers.
The cost of obtaining the contact details of up to 10 potential candidates is ONLY £99 plus VAT, although this can be reduced simply by spreading the word on Facebook and Twitter about their vacancies. Not only does this bring the cost down to just £79, but greatly increases the exposure of the vacancy to an even wider audience.
Dental Gateway's new site capitalises much more on the opportunities provided by social media, offering both candidates and employers an even greater chance of finding either the perfect job or the perfect candidate, and all without any need for middlemen or expensive recruitment consultants.
The whole process is simple, quick and has already helped thousands of candidates find the perfect job, and employers have benefitted from being able to cut out the exorbitant recruitment costs normally involved in advertising vacancies and recruiting candidates.
FASTER AND MORE EFFICIENT COMMUNICATIONS...
Candidates looking for dental vacancies can now choose to set up weekly alerts which will be delivered directly to their email inbox, and employers now receive an email immediately a candidate applies for a position, giving them the chances to view their CV and either accept or reject the application.
JONATHAN TINKLER, MD, said "We hope that with our new website we will make the whole process of dental recruitment even more effective, replacing expensive dental recruitment agencies with the power of online social networking. By placing highly effective search facilities in the hands of both candidates and employers we hope that dental recruitment can become more effective, more affordable and more successful."