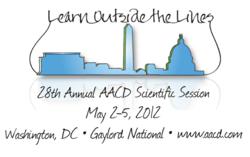 You will not want to miss this remarkable meeting
Washington, D.C. (PRWEB) April 18, 2012
The Dawson Academy, provider of dental seminars, is proud to participate in the 2012 American Academy of Cosmetic Dentistry's Annual Scientific Session in Washington, D.C this May.
Joan Forrest, President and CEO of The Dawson Academy, shares, "The AACD meeting is our favorite meeting to attend because all the attendees are focused on becoming better dentists."
Drs. Peter Dawson, John Cranham, and Scott Finlay, three Dawson Academy Faculty members will be presenting on the "Timeless Principles in Cosmetic Dentistry".
Each of the three presenters has received many accolades to their name. Dawson is recognized internationally as one of the contemporary iconic leaders in modern dentistry. Cranham, clinical director of The Dawson Academy, is an internationally recognized speaker on the esthetic principles of Dentistry. Finlay is not only a senior faculty member at The Dawson Academy, but is also a fellow of the AACD and an examiner and board member of the American Board of Cosmetic Dentistry.
"This will be the third time Dr. Dawson has presented at the AACD. He rarely presents at outside meetings and this level of participation reflects on how positively he views the work of The Academy and its members," explains Forrest.
The three presenters will teach attendees the essential relationship between function and esthetics.
"The true foundations of quality, predictable and beautiful dentistry lies within the understanding of this sophisticated system. It is the application of the functional matrix that modulates smile design. Great smiles can only be a mirror for great design," said Finlay.
The American Academy of Cosmetic Dentistry's (AACD) Annual Conference is undisputedly one of the premier dental conferences in the country. It presents a blend of the top national and international experts in dentistry with a culture of elegant camaraderie.
Finlay shares, "This year, in Washington DC, there are already over 1600 registrants and the staff at AACD has one of the best program line ups ever. You will not want to miss this remarkable meeting."
To attend their lecture, make sure to register with the American Academy of Cosmetic Dentistry at http://www.AACD.com.
About The Dawson Academy
The Dawson Academy is an international provider of science-based dental continuing education, teaching dentists to comprehensively diagnose and treat dental problems with excellence and integrity. The Academy has taught dental courses to the dental industry for over 30 years and is dedicated to teaching the principles and skills necessary for the successful practice of complete, quality, and predictable dentistry. The Dawson Academy's goal is to make good dentists even better.