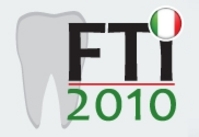 Florence Italy is a fitting background for the conference providing the perfect opportunity to Enjoy Science and Art combined
(PRWEB) October 11, 2010
The 2nd FTI conference - Future Trends in Implantology, brings together leading European clinicians and researchers and is targeted at Endodontics, Oral and Maxillofacial Pathologists, Radiologists and Surgeons, Pediatric Dentists, Implantologists, Dental Hygienists and Dental Technicians.
FTI Dental Conferences
Featuring distinguished speakers, the program will cover a wide range of compelling topics such as treatment planning, implant complications and failures, innovative surgical and prosthetic procedures. The high-quality scientific program will broaden perspectives by exploring the latest technology in dental implantology keeping clinician's up-to date on most innovative treatment procedures.
Pre-Conference on the morning of Thursday, November 11, 2010, FTI 2010 has an exciting program of 4 sponsored workshops. The workshops will cover growth factors, implant design customization, surfaces and laser surgical procedures. Given by leading practitioners, the workshops are designed to give participants an intensive introduction into a specialty field.
Workshops:

Clinical Applications of PRGF - Plasma Rich in Growth Factors. Dr. Leopoldo Bozzi, Italy. Sponsored by BTI
TiXos Line: Standard Implants, Short Implants and Custom Made Implants. Dr. Luigi Ciavarelli, Italy, and DLMF Surface: When Technologies Mimics the Nature. Dr. Massimiliano Li Vigni, Italy.
Sponsored by Novaxa

Natural Aesthetic on Implants with Morse Taper Connection: An Experience of Long-Term Success. Dr. Roberto Meli, Italy.
Sponsored by Leone

CO2 Laser Surgery: Less invasive, more predictable. Dr.Todd J. Sawisch, USA.
Sponsored by DEKA.
Florence Italy is a fitting background for the conference providing the perfect opportunity to Enjoy Science and Art combined. Considered one of Italy's most beautiful cities, it is known for its long history in culture, architecture and art. Florence offers participants and their families a unique opportunity to see the sights and enjoy the ambiance while attending the conference
Organized by Paragon Conventions the conference is held under the auspices of SIO - Società Italiana di Implantologia Osteointegrata (Italian society of Implantology Osseointegration).
For more information please visit - http://www.ftidental.com
# # #