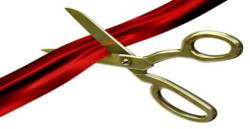 Come and have a free lunch on us!
Albuquerque, New Mexico (PRWEB) September 17, 2012
As part of a ribbon-cutting ceremony to celebrate the opening of its second location, Neighborhood Smiles is offering new patients a $100 discount off dental treatments and free teeth-whitening for life. It is also serving free hotdogs and sharing information about its dental services.
The grand-opening celebration will take place Saturday, Sept. 22, 11:30 a.m. to 1 p.m., at 9501 Paseo Del Norte N.E. Suite A (Paseo/Holbrook), with the ribbon-cutting ceremony taking place at 12:30 p.m. Lunch will be served the entire time.
"Come and have a free lunch on us!" said Dr. Jonathan Kelley and Dr. Spencer Morgan, the doctors at the new location. "We are looking forward to meeting you, and we are excited to be providing great family dental care to our community."
Local radio station 99.5 Magic FM will provide live radio coverage of the event and prizes. Free merchandise and pizza will also be given out from its van and booth. The event is being organized in cooperation with the Greater Albuquerque Chamber of Commerce.
"A growing need for a high level of customer service, convenience, and quality dental care in Albuquerque, New Mexico, is why we are opening this second location," said Dr. Timothy Rauch, owner of both practices. "We pride ourselves on making sure our patients are relaxed and well-cared for and that all their dental problems are addressed in a caring, comfortable, and competent manner."
Neighborhood Smiles Albuquerque offers a wide range of services and care for the entire family, including clear braces, cosmetic dentistry, crowns, bridges, porcelain veneers, and teeth whitening.
For more information, call 505-369-1881 or go to the Albuquerque Chamber's Web site at http://www.abqchamber.com/content.asp?CustComKey=371116&CategoryKey=502457&pn=Page&domname=abqchamber.com
About Neighborhood Smiles:
Neighborhood Smiles now operates two locations in Albuquerque, New Mexico. The first, at 6521 Paradise Blvd NW Suite M, has been in operation since January 2011. The new location at Paseo del Norte NE opened July of this year. Doctors at both facilities pride themselves in providing personalized care at a low cost and offering helpful payment plans. For more information about Neighborhood Smiles and its practicing dentists, visit http://www.smilesabq.com. This site provides dental information, blog posts, advice on how to deal with bad breath, diabetes, gum disease, teeth grinding, and other dental problems, as well as information on teeth whitening. You can also find Neighborhood Smiles on Facebook and Twitter.
###