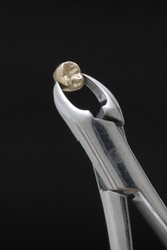 Dental professionals should be careful who handles the refining
Barrington, IL (Vocus) March 18, 2008
Many dental professionals have long considered dental scrap simply as "scrap" with little significant value. However, given gold at record highs above $1,000 per ounce, platinum topping $2,100 per ounce and palladium north of $500 per ounce, the term scrap is not quite accurate. Rather, it minimizes the high profit potential.
The term "dental scrap" also diminishes the perceived value when it is sold. "Having been in the business for 30 years, to my amazement, we have discovered that the majority of dentists, oral surgeons, maxo-facial surgeons and prosthodontists are in the habit of selling their dental metals to people who come to their offices with a pocket of cash and scale in hand," stated Sheldon Goldner, President of Precious Metal Refining Services. "While the dental professionals feel they have just made a quick buck for their dental 'scrap,' in many cases they have short-changed themselves by hundreds or even thousands of dollars."
Weighing or a visual assessment cannot determine the value of dental metals. The metals must be refined to recover the gold, silver, platinum and palladium. "Dental professionals should be careful who handles the refining," cautioned Mr. Goldner. "We pride ourselves on always providing a detailed refining report. We offer dental professionals the same high-caliber refining services that large dental labs and other precious metal generators receive."
The entire exchange transaction is actually simple. For example, Precious Metal Refining Services offers free prepaid containers. The metals are then mailed back to the refiner. Dental professionals receive 95 percent of the value of all precious metals contained in all refined product. Payment is made according to the professional's request.
When selling dental metals, it is important to treat the transaction as one would approach any business deal. The professional should demand to be treated fairly and honestly. This is perhaps best accomplished by removing the word "scrap" from the thought process and viewing it for its true profit potential.
About Precious Metal Refining Services
For almost 30 years, Precious Metal Refining Services (http://www.progressive-environmental.com) has been refining precious metals for jewelers, jewelry manufacturers, mirror manufacturers, photo labs, dental labs and dental professionals. For more information on Precious Metal Refining Services or dental metal refining, contact Sheldon Goldner at 1-847-756-2700 ext 12 or visit the Precious Metal Refining Services web page at: http://www.progressive-environmental.com/dental .
Download related files: http://press.gsmarketinggroup.com/pmrs/misnomer.html
Contact:
Sheldon Goldner
Precious Metal Refining Services
1-847-756-2700 ext 12
shellygoldner @ progressive-environmental.com
# # #