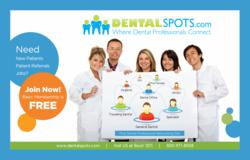 dental professionals can better manage their dental careers by building a solid network of industry connections
Dallas, Texas (PRWEB) January 31, 2013
In these times of slow economic growth dental professionals and dental job seekers need to take every advantage available to help manage and improve their professional dental careers. DentalSpots.com says that one way to build a dental career and be ready for whatever happens is to build a solid network of dental professionals you can rely on at all times.
Dallas, TX - January 31, 2013 - Feridoon Amini, founder of DentalSpots.com, the premier online resource for the dental industry, says that dental professionals can better manage their dental careers by building a solid network of industry connections. Amini states that, similar to the way business professionals connect on LinkedIn, there are many benefits to dental professionals becoming part of a network that is geared specifically to the dental industry.
The main benefit of participating in an industry network is the ability to connect directly with other dental professionals. Dentists can access the online community at DentalSpots.com to help build a referral network for their practice, keep in touch with contacts they met at an industry conference or to build a nationwide network of industry contacts. As with any industry, it is also imperative for dental professionals to keep up-to-date on industry topics. The discussion boards available through the DentalSpots.com network will allow dentists to follow threads on topics of current interest, ask questions, and get to know their fellow dental professionals.
Because the economy is constantly changing, dentists can leverage participation in an industry community to watch out for dental practices that are growing and build relationships with them. When the dental practice is ready to hire a dentist or take on an associate dentist, the basic relationship will already be in place. Dentists who are thinking of relocating to further their career can also use a network to get to know dental practices in growing markets.
Being active in a professional community is another effective way of staying visible in front of potential dental job employers. When dentists do decide that it is time to find a better opportunity or search for another job in the dental industry, they won't have to start at square one in trying to connect with possible employers or partners.
Many dental professionals find that a community can be an especially effective way of promoting any expertise they may have in dentistry by commenting on discussion boards or starting their own stream on a particular topic. Other dental professionals then read and remember these postings and keep the dentist in mind for possible job openings, referrals and industry speaking opportunities. DentalSpots.com users are encouraged to keep their online profile up-to-date in case somebody does want to learn more about their field of expertise.
DentalSpots.com is making it easier to manage dental careers, fill dental jobs and connect with dental professionals in Dallas, TX and beyond. Keep up with latest dental news by reading our blog, Dentl Spotlight. Further information may be obtained by visiting http://www.dentalspots.com, connecting on Facebook, following @DentalSpots on Twitter, or calling 1-800-971-8008.