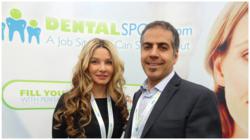 Employers view candidate profiles that have audio or video resume far more....that is an easy way to job-seekers to stand out
Frisco, Texas (PRWEB) March 24, 2012
DentalSpots.com founder, Feridoon Amini, announces that the dental jobs website has just added a new feature that enables applicants looking for dental hygienist jobs and dental assistant jobs to easily upload an audio/video resume, giving potential employers a chance to get to know them better. Amini states that no other dental jobs website is offering this feature. DentalSpots.com's iPhone and Android apps will also allow job-seekers to take advantage of this opportunity and upload their audio or video resume. DentalSpots.com bills itself as the premium, one-stop destination for dental staffing needs.
To take advantage of this unique audio/video resume feature dental healthcare professionals seeking permanent or temporary dental hygienist jobs, dental hygienist jobs, associate dentist jobs] or dental front office jobs visit http://www.dentalspots.com, register, create a profile, and set up job alerts. They then create an audio/video resume which showcases their professional dental skills and easily upload it to the website. The dental job search site, which is free for job seekers, includes the ability to save job searches and create email templates or cover letters. The site also features profile matching which notifies candidates when they fit the criteria for a posted position.
Amini has over twenty years of experience as an IT architecture and design expert. He founded the website with his dentist wife, Dr. Mojan Safavi, as a way of improving the entire dental hiring process. Commenting on why he thought it was necessary to add this feature to the site Amini said, "The right match between a dentist and office personnel is crucial to the success of a practice. After going through hundreds of resume and hiring many people, my wife and I realized that some of the best people we hired for dental hygienist jobs and dental assistant jobs did not have very good resumes. We wanted to give them the opportunity to present themselves in the best light possible. Written resumes have all the necessary facts and educational information, but an audio/video resume allows the applicant's true personality to shine through."
Dental practices that are seeking to hire new employees use the website to view candidate resumes and create an office profile to introduce themselves to potential applicants. There is also a patent-pending automated temporary staffing solution that allows dental employers to fill temporary positions quickly.
"Dentists work best when they can concentrate on providing great smiles and promoting good oral hygiene. DentalSpots.com lets them concentrate on what they do best by helping to manage every relationship in their practice," concluded Amini. "That includes helping dentists find the best applicants to fill their dental hygienist jobs and dental front office jobs who can help their practice grow."
DentalSpots.com is a nationwide job search engine that provides an online resource for finding dental jobs and offering employers dental hiring solutions. Further information on the service or the audio/video resume feature may be obtained by visiting the website at http://www.dentalspots.com, connecting on Facebook, following @DentalSpots on Twitter, or calling 1-800-971-8008.