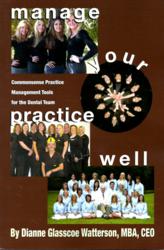 A dental consultant can be an invaluable practice resource.
Frederick, MD (PRWEB) April 25, 2012
Professional Dental Management, Inc., a full-service speaking and consulting company located in Frederick, MD announces the launch of a new website located at http://www.professionaldentalmgmt.com. This fresh, new site is visually appealing and easy to navigate. The website gives information concerning general consulting services as well as focused hygiene consulting. Meeting planners will find course descriptions and seminars information as well. Many articles written by Glasscoe Watterson that were published in Dental Economics and RDH magazines are archived on the new site.
One unique feature of the site is the ability to submit a question to the consultant about any practice management issue. A box located on the home screen allows the visitor easy access to a consultant. All that is needed is the visitor's name and email address and a description of the issue.
Additionally, two webinars are now being offered on the site. One webinar is on staffing and the other is about staff meetings and staff terminations. Dental business owners and administrators will find helpful information related to these two topics.
Coming soon to the website will be two continuing education courses approved for self-study that will award two continuing education credits upon successful completion of the post test.
Professional Dental Management, Inc. is dedicated to making good dental practices better through practical, onsite consulting. For more information, contact Dianne Glasscoe Watterson, MBA, at (301)874-5240 or email dglasscoe(at)northstate(dot)net. http://www.professionaldentalmgmt.com